On Thursday, February 7, Pittsburgh-bred DJ Petey C competed in the Red Bull Thre3Style East Coast regional event. Having advanced after winning the Pittsburgh qualifier a few weeks prior, Petey would be competing against fellow qualifying round winners from Boston, D.C., New York City, and Philadelphia. The night's event took place in Philly at Voyeur Nightclub. Less than an hour after doors opened, the venue was jam-packed with people ready to dance, party, and rock-out to some of the regions best DJs.
"I'm feeling great," Petey C said as the audience began flooding into the club around 10 P.M. "I'm starting to see a lot of 412 tee's show up. I'm stoked, man."
Two of Petey C's competitors from the Thre3Style Pittsburgh qualifier, DJ Midas and Pete Butta, were in the building to support their hometown friend. DJ Bonics, who judged the Pittsburgh qualifier, hosts a radio show on Wired 96.5 FM in Philly and made his way out as a spectator.
The five competing DJs in Red Bull Thre3Style's East Coast regional event were, in order of performance, DJ Petey C, DJ Trayze, DJ Zeke, DJ LayZee Boy, and DJ PHSH. As the only of the bunch that made it to this round last year, Petey seemed comfortable with the news that he'd be the first to perform the 15-minute DJ set that is asked of the competitors.
"This is the destiny, man, this is what was made for me," Petey said before going on stage. "Everyone's watching me and everyone's gonna start this whole battle off with me."
DJ Petey C rocked out, showcasing skills in all five of the criteria categories that Thre3Style DJs are judged on — song selection, creativity, mixing, audience response, and stage presence. One of my favorite portions of Petey's set was his blend of the vocals from Notrious B.I.G.'s first single, "Party & Bullshit," atop the instrumental of "Insane In the Membrane" by Cypress Hill, followed by a mix into Jagged Edge's 2001 R & B/Pop hit "Where the Party At?" Embracing the energy that had accumulated in the audience as they awaited the first performer, Petey's set closed with several areas of the crowd chanting his name.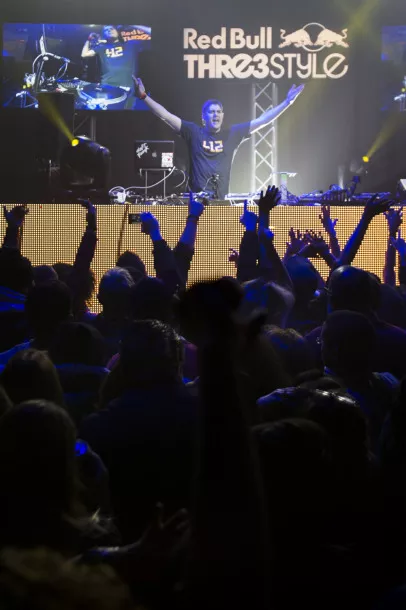 Photo courtesy of Red Bull Thre3Style
"I think that he embodied the Thre3Style, to me at least and my taste," said DJ Bonics during a follow-up phone call a few days later discussing his thoughts on Petey's performance in the event. "He made it more than a DJ set, he made it a story and took you on a journey. And I think that makes the best Thre3Style sets. Overall, he definitely should've placed and he did."
Following the individual performance sets of the five DJs, the panel of reputable judges — DJ Jazzy Jeff, A-Trak, Z-Trip — decided on a winner. Of the five competitor's, the three top-ranking DJ's would receive prize packages. Event host Rich Medina announced Petey C as the third place recipient. It marked his first time placing in this East Coast regional event. In second place was DJ Trayze, with DJ PHSH finishing in first place and being awarded the opportunity to advance to the Red Bull Thre3Style National Finals event in Los Angeles later this year.
"Pittsburgh's a small town, I don't think people were expecting someone from Pittsburgh to place over someone from New York," said Petey, as he went on to talk about the other advantages of being a part of the Thre3Style competition. "I met so many people networking, you can't buy that or fake that... coming off stage and getting props from DJ Cash Money and legends and stuff."
Petey also noted his appreciation for having been able to share this experience with D.C.'s representative, DJ Trayze, whom he had met about two years ago.
"I'm happy we were up there together," said Petey, continuing on with a story that happened as he and Trayze stood at side-stage after the competition. "We were just standing there waiting for [Jazzy] Jeff to go on [to perform], because we were so excited to watch this legend go on and shut it down. So we're standing side-stage, and all of the studden these huge bouncers come in and blow everyone out of the way. And then A-Trak and Z-Trip just, like, walked in. And, they were like 'we're gonna watch the show right here with you guys.' We were just like, 'great!' (laughs). I did kind of have a quick moment, they were both like 'you did good' and we took a pic."
Currently, DJ Petey C is taking on a variety of deejaying gigs. This Thursday, Feb. 14, he's playing at S Bar in the South Side with DJ Bromeo. On Saturday, Feb. 23, Petey will be playing a double at Seven Springs Ski Resort — on the deck during the day and at night at the Matterhorn. He also recently began a monthly residency at Bent Willey's in Morgantown, West Virginia, as he continues to expand his brand beyond Pittsburgh.
Wrapping up our conversation on his performance in the East Coast regionals of the Red Bull Thre3Style, Petey said "[advancing to] the next round is really what I'm after at this point."
Contact and booking information for DJ Petey C can be found at DJPeteyC.com.