This remarkable new show by the acclaimed locally based magician is worth catching before it closes Saturday.
Gertner's one of those area talents who goes little recognized here. Partly that's because, though he performs all around the country, this sleight-of-hand magician and mentalist plies his trade mostly for a corporate clientele.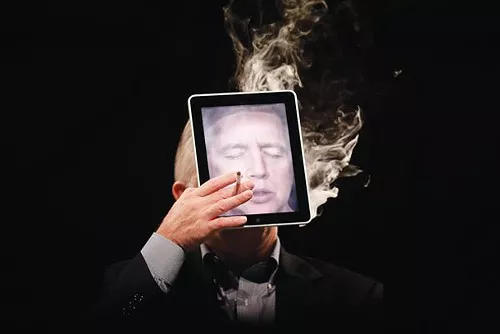 But every so often, Gertner creates a show for the public stage. In the hour-long, family-friendly
Braindrops
— which premiered at South Carolina's prestigious
Spoleto Festival
— Gertner spans the history of sleight-of-hand from the ancient Roman cup-and-balls to his iPad; conducts an impressive "mind-reading" display; and raises some timely and provocative questions about our relationship with technology. (YouTube teaser
here
.)
A key analogy in the show compares digital technology and his brand of magic: Just as the magician uses extraneous information to distract you from his trick, so can the cyber-world's info overload distract and fool you all too easily.
Gertner is an unassuming-looking, silver-haired guy from Shaler. In the intimate Grey Box space, his small stage is packed with a widescreen monitor, a table and a stand, and backed by a wall-mounted screen for additional projected video.
But his key tool is his iPad, the bit of mass-marketed digital magic that he says inspired the show. In Braindrops, Gertner's signature trick is coordinating his live action with prerecorded videos on his iPad screen, so that he appears to be reaching into the video space — or, alternately, using the iPad as what he calls an "electronic mask." Think video of his face playing where his real face should be.
He employs the latter technique to various effects, from eerie to exciting to unexpectedly beautiful. Two passages are scored to prerecorded music; one is poignantly set to Willie Nelson's "You Were Always on My Mind."
The show, paced to Gertner's practiced patter, is slick but not superficial. He drives home a message about trusting technology too much with a sneaky bit of self-marketing. And he asks, What about letting technology make life-or-death decisions for us? Or are we already effectively doing it, by carelessly texting or cell-phoning while speeding down the highway?
And what happens, Gertner asks, when technology can read your mind? His answer is to engage in some mentalist cleverness himself, seeming to divine what audience members are thinking (like the names of childhood pets).
How's he do it? I dunno. But it's lots of fun to watch. As one woman sitting behind me put it after one such mentalist trick: "Oh Jesus! No way! Come on!"
Braindrops continues with three more shows: 8 p.m. this Friday, and 2 and 8 p.m. Saturday. Tickets are $20. (You can also call 421-784-1115.) Grey Box is located at 3595 Butler St., in Lawrenceville.