The knobs on the front of Pittsburgh Craft-o-Tron are appropriately rudimentary. With the pull of one of these vending-machine knobs, through a mechanism that harkens to a simpler time, one of a variety of locally handmade crafts is dispensed.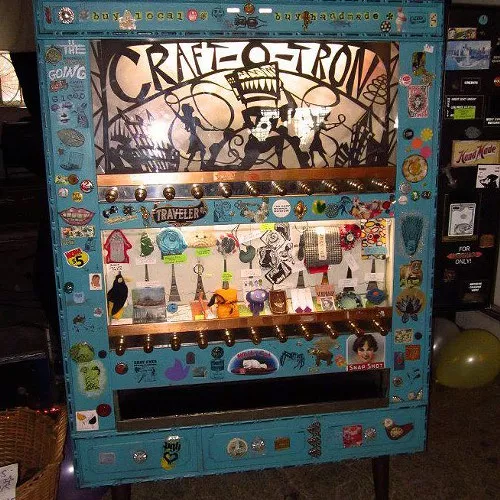 The crafts range from crochet pierogies to "Kreepy Dolls," and can be purchased from "Tronny," now located at
Crazy Mocha
at South Side Works, for $5 each.
Tronny's creator, or "Tron-Mom," is longtime local crafter Lynne Kropinak. She sees the machine as a sort of "mechanical craft show." Kropinak, who crafts various items from recycled goods, repurposed the former cigarette vending machine into Tronny three years ago. She was inspired by the similar Art-o-Mat machine started by artist Clark Whittington, in North Carolina.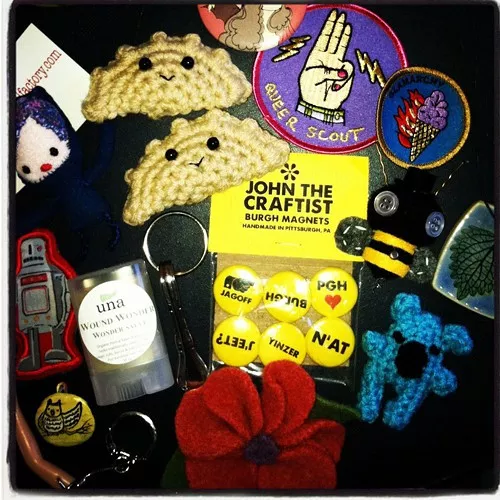 However, Tronny has evolved somewhat from his predecessor: He's nomadic.
At the request of intrigued passer-bys, Tronny travels to various locations across the city, setting up at different establishments. Tronny travels where he's wanted, sometimes staying at locations for months on end until he's requested elsewhere.
Venues have included The Mattress Factory art museum, Shadyside's Oh Yeah! Ice Cream, and Burgatory restaurant, in Waterworks Mall.
"Local businesses have been really supportive, I'm constantly getting request to set up Tronny in people's shops," Kropinak says.
The notion of unique, handcrafted items coming out of a vending machine defies the conventional logic that such machines are designed to deliver consistent factory-made items.
It's Tronny's convention-challenging nature that struck the attention of local artist Dan Baxter, whose "Kreepy Dolls" are currently featured.
"I heard about Tronny at a craft show and instantly went home and called Lynne to ask her to put me in the machine," he says.
Baxter's Kreepy Dolls do have that creepy-with-a-K feel: The rag-doll-style creatures make for a playfully eerie trinket unlike anything found commercially.
Tronny himself is much like the crafts he dispenses. Made from recycled goods and drifting around town sharing a more personal kind of art.
That's how Baxter explains hand-crafting's cultural revival — evident locally in the popularity of craft fairs like those run by Handmade Arcade the I Made It! Market. It's a rejection of factory-made corporate items found in your average vending machine. Baxter's dolls appeal to a more intimate past when the hands that made an item had a face.