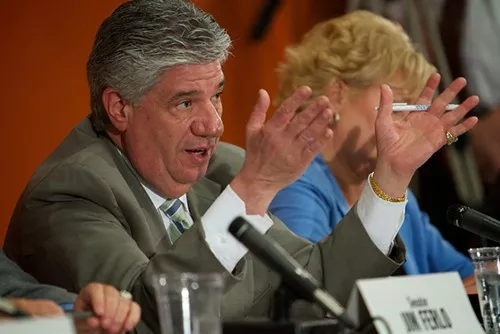 Some local lawmakers aren't happy with the way Port Authority CEO Steve Bland called them out while lobbying for transportation funding in Harrisburg and that could be contributing to county executive Rich Fitzgerald trying to oust Bland as head of the agency.
State Senator Wayne Fontana (D-Brookline) says Bland often pointed the finger wrongly at the Allegheny County delegation for lack of effort to get a state transportation funding solution in place.
"A lot of us, I think, behind the scenes felt he was pointing specifically at us rather then the ones who were really in the way, like the Governor," Fontana tells City Paper. "We just felt he singled us out when we're here fighting."
Fontana says that Bland had an "indifferent attitude" to county lawmakers. "His attitude was a lot of times...'Just get it done, I don't care about Democrat/Republican stuff'," he says. The agency has pointed squarely at Harrisburg as holding the key to fix the funding crisis and Bland hasn't been shy about directing criticism there either.
"It bothered me. Why would you call out the people you knew were advocating for you?" Fontana says. "We were all over this. He knew that."
Fontana says the agency did well under Bland until it faced a funding crisis as a result of flat state financial support and which has yet to be addressed by Gov. Tom Corbett.
"It went well until his funding got cut and he wasn't able to get more funding," Fontana says. "When it came to crunch time he didn't seem to know how to crunch it." Fontana also faults Bland for implementing a 15% service cut in Mach 2011, saying that some of the routes cut were "questionable." He also has questioned the authority's decision to spread out a one-time funding flex from former Gov. Ed Rendell.
Regardless, Fontana says its up to Fitzgerald to hire and fire as he sees fit and that state lawmakers only offer opinions about "how to lobby in Harrisburg," not personnel decisions. But he does say that it seems like Bland no longer wants to be there since he's been a candidate for jobs at other transit agencies.
"The guy's been out looking for work; I have to assume he's uncomfortable there," Fontana says. "This is a county authority. I would think Rich would want to surround himself with people who have the same philosophy."
And Fitzgerald and Bland have butted heads before. Fitzgerald took over negotiations with the authority's largest union as we noted this week.
"It's been something that's brewing," Fontana says. "I'm not shocked Rich wants makes a change. When you see a guy looking for other jobs, he either sees it coming or wants it to come."
The agency's board was expected to take action on Bland's fate this morning, but the meeting was postponed to next Friday.