Employees of UPMC can no longer say that their employer hasn't been listening to their concerns and addressing their needs.
Since non-medical employees began seeking unionization earlier this year from SEIU, they have been telling the public about the low wages paid by the healthcare giant and how it affects their ability to make ends meet. Many employees, like Leslie Poston, have told the public how they've had to go to food banks to make sure they have enough food for their families. Others have said they have to go on public assistance.
But fear not, good workers: UPMC Cares, and they've come up with a solution. In fact, since Poston was one of the first workers to tell such tales, UPMC brass decided to alert her to the news first.
"It was two days before Thanksgiving and my unit director came up, put an arm around me and said 'we've been hearing what you've been saying,'" Poston told City Paper earlier today. "She pulled out a flyer and said, 'We're starting a food bank for the employees.'"
"I turned my head and started to cry because I was so angry, although she thought I was crying because of the gesture. They just don't get that I'd rather they pay me a better wage so I wouldn't have to go to a food bank."
CP sent a list of questions to UPMC about the food bank last week, but received no response. For example, it's unclear if UPMC is directly contributing to the food bank — but they are certainly asking other employees to donate. We confirmed the formation of the food bank through several fliers and emails posted and sent to UPMC employees. Notification was also posted in a UPMC newsletter entitled "Inside Extra: News and Information for UPMC Staff."
Under the heading "'Tis the Season to Help Our Community," the Nov. 30 newsletter asks employees to take "part in activities that demonstrate our caring and compassion for our patients, families and the colleagues we work with everyday."
"One of these 'Tis the Season activities is the opportunity to donate nonperishable food items to stock employee food pantries that will be established on both the UPMC Presbyterian campus and at UPMC Shadyside. The Pantries will be open later this month, giving employees in need sufficient time to pick up items they and their families can use to make their holidays brighter." Food was to be collected at the various staff holiday parties held over the past week.
There was also this flyer that has been hanging in UPMC Shadyside break rooms that asks employees to "demonstrate another core value — caring — to help our UPMC Presbyterian Shadyside Community." Here's the full flyer: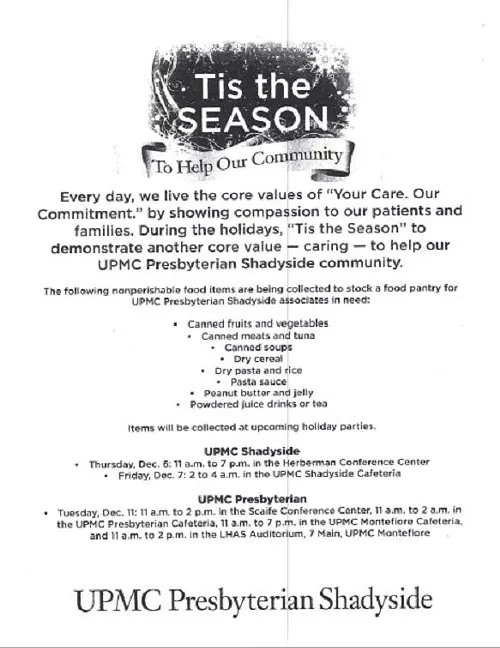 For Poston, who's been employed with UPMC for nine years, the food bank is a "slap in the face" and not a very well thought out proposition for several reasons.
"I don't need them to pick out my food for me; I need them to pay me better wage so I can pick out my own food," says Poston. "Also, it's going to be more demeaning and embarrassing for me because now I have to go and pick up food at a food bank where I work in front of my friends and co-workers. I make it a point to go to food pantries where nobody knows who I am."
But anonymity, at least in the UPMC community, is something that Poston has given up to speak out against her employer. Last Wednesday, she spoke publicly at an Allegheny County public hearing challenging the tax-exempt status of UPMC, and has written letters to the editor.
She says she has no plan to stop.
"Some of my co-workers are very scared to speak up," Poston says. "But it's very hard to intimidate me; that's just how I was raised. I want as many people as possible to listen and know exactly how UPMC conducts business.
"Yes, they do good things for the Pittsburgh community, but that just isn't felt by its own workers."
UPDATE (Dec. 12): Though they didn't talk to us, UPMC did speak to the Post-Gazette's Steve Twedt. A spokesperson told Twedt that a food-pantry program began at UPMC Mercy, and was extended to Shadyside/Presbyterian complex this year. The hospital maintains the program has nothing to do with wages."It's unfortunate in this holiday season that no good deed goes unpunished by those promoting other agendas," Susan Manko told the paper.