Will Steacy's monster installation (in fact he calls it "The Beast") about the long slow death of the American Dream is well worth seeing before it closes Dec. 15.
Steacy's a fiercely committed, nationally known photojournalist, and No Home No Job No Peace No Rest, at Silver Eye Center for Photography, includes a few dozen of his powerful images of human and material urban devastation from around the country.
But the exhibit's centerpiece — perhaps unprecedented at Silver Eye — isn't a photographic work, but rather a two-wall-sized collage-style assembly years in the making. Silver Eye is the first place to show it.
Here's a photo from the gallery's website of Steacy at work on The Beast: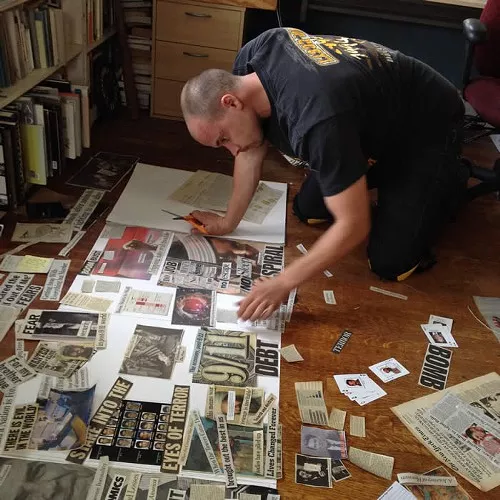 The newspaper articles and headlines, magazine ads, cigarette packs and handwritten notes he employs date from the early 1980s to today. That's basically Steacy's lifespan, and the same time period many have identified as when prosperity and even simple security began to slip from the grasp of the ordinary American worker.
A recurring figure is Marvel Comics' Captain America, typically captured in dire straits or some howl of rage. The superhero is effectively a guide through the work, whose main theme is the decline of the country's industrial base and ceaseless erosion of family-supporting jobs.
While Steacy stitches the images together cleverly, and sometimes with a surreal edge, his analysis isn't what you'd call subtle. There are clear bad guys — Reagan, Wall Street greedheads — and obvious victims. The only thing resembling an up-note comes with the grim triumphalism of a passage celebrating the killing of Osama bin Laden.
However, the artist forcefully makes a point too many of our fellow citizens ignore: For a large and growing portion of our neighbors, life's getting more hopeless, and our politics and policies are what's to blame.
And here's Robert Raczka's formal review of the show for CP.
Silver Eye is open Tuesdays through Saturdays at 1015 E. Carson St., on the South Side.