Contemporary theater doesn't often tell stories of the working poor, and that's not too surprising. Such stories can be harrowing, theater audiences tend to be well-heeled, and most companies don't want to trouble subscribers more than necessary.
So kudos to Pittsburgh Public Theater for staging Good People, and to David Lindsay-Abaire for writing it. The play, which runs through Dec. 9, sends a working-poor, 40ish South Boston woman named Margie like a guided missile into the life of a former boyfriend named Mike, now an affluent doctor.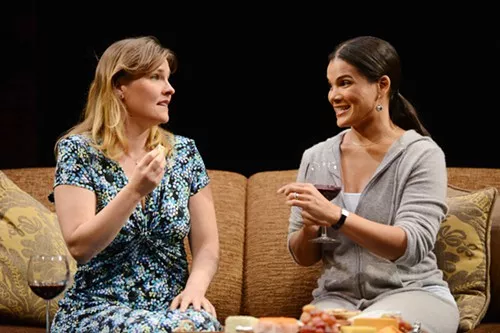 Kelly McAndrew and January LaVoy in "Good People."
Here's Robert Isenberg's admiring
review
for
CP
.
While the show plays largely as earthy comedy, at heart it's a serious, even harsh, look at class in America. A central issue is whether Mike's financial success isn't due as much to luck as to the hard work he claims got him there. And conversely, whether unemployed single mother Margie's troubles are all her own fault or also fundamentally the luck of the draw.
I can't help but recall a talk at Point Park University last month by journalist and author Barbara Ehrenreich. Ehrenreich, whose books include Nickel and Dimed: On (Not) Getting By in America, often notes that the affluent like to think the poor have something wrong with them — bad morals, bad judgment — when in fact poverty is, simply, the lack of money.
With Good People, Lindsay-Abaire's hand is likely tipped by the fact that the play's final bit of dialogue is a bingo call.
Still, there's a sense of qualified hopefulness for Margie that might allow theater-goers inclined to blame the poor for their lot to depart the aisles without a conscience overburdened. Meanwhile, perhaps Lindsay-Abaire — with help from director Tracy Brigden and the Public's fine cast — will even change a few hearts, if not minds.