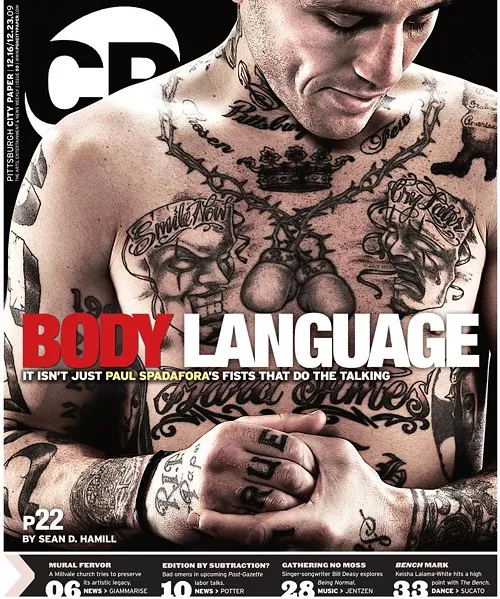 Paul Spadafora, as seen on our Dec. 17, 2009 cover story.
I know everyone loves mixed martial arts these days, but this region's boxing scene is starting to re-emerge to the forefront and a familiar face looks to be leading it.
Former IBF lightweight boxing champion "The Pittsburgh Kid" Paul Spadafora will go for an astounding 47th win this Saturday night at Mountaineer Casino in Chester, West Virginia against Solomon Egberime (22-3-1, 11 knockouts). The event is promoted by former world champion Roy Jones Jr. and also features local boxing favorite Monty Meza Clay.
Spadafora's current unbeaten streak and win total — 46-0-1 with 19 KO's — is sort of astounding when you consider he has spent years dealing with legal and personal troubles that forced boxing to the background. He has fought just eight times since 2004.
The 37-year-old McKees Rocks native has long dealt with issues relating to alcohol abuse. In 2003 he shot his former girlfriend following a traffic incident in the Rocks. He was sentenced to 21 to 60 months in prison for the crime. He has also been arrested on DUI charges, including two a month apart in October 2011. Spadafora has also been recently sued by his former manager Al McCauley, who claims he should be paid a piece of Spadafora's purse from an August fight and wants to lay claim to any future earnings from the former champ.
In August, Spadafora defeated challenger Humberto Toledo at Mountaineer and said rehab saved his life and allowed him to get back into the ring.
"Seven months ago, I was in a bad spot. Every day is good for me now. I got my life back, I'm boxing, I got my kids. Sobriety's perfect. I'm doing good and taking it one day at a time. Tomorrow's another day," he said in August.
Saturday's fight is crucial for Spadafora who is ranked 11th by the World Boxing Association and 19th by the World Boxing Council in the Super Lightweight Division. A strong showing Saturday should give Spadafora a huge boost in the rankings and a potential title shot against WBA and WBC champ Danny Garcia.
Tickets for the fight are still available at Mountaineer's website starting at $25