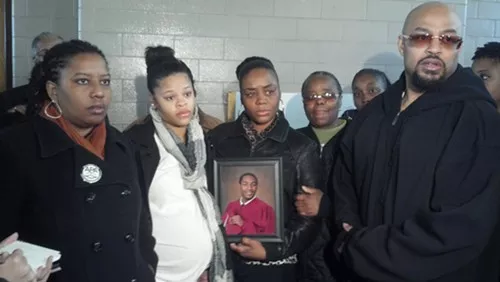 Brandi Fisher, president of the Alliance for Police Accountability, stands with members of Leon Ford Jr.'s family at the St. Lawrence O'Toole Center in East Liberty Wednesday morning. Family included Avery Roberts, who is due to deliver Ford's child in January; Ford's mother, Latonya Green; his grandmother, Marion Green; and his father, Leon Ford Sr.
The family of 19-year-old Leon Ford Jr. gathered today in the East End to ask police, through the media, for information about his condition and a chance to see him.
Ford, who is being held at UPMC Presbyterian, according to the Post-Gazette, was shot by Pittsburgh Police Officer David Derbish several times in the chest after Derbish and a partner pulled Ford over for a traffic violation Sunday evening near Stanton Avenue and Farragut Street.
Hospital staff could not confirm that Ford is under their care.
Family members say they have not been given any information about his injuries or condition.
The family says they learned that Ford was in trouble Monday afternoon only after tracking his car down in an impoundment lot and piecing information together they saw in news reports.
"He didn't come home. It's rare that he doesn't come home," says Ford's Father, Leon Ford Sr. His son he says, was staying with his mother and grandmother at a house on Broad Street, about four blocks from where he was pulled over by police.
The family spent nine hours at the hospital waiting, unsuccessfully, to see Ford, says Brandi Fisher, president of the Alliance for Police Accountability. Because Ford is being held in the custody of police at the hospital, they later learned they need a court order to be at his side. The family was in the process of obtaining one this afternoon, Fisher says.
But she says the incident highlights the need for better communication between the police and the community. The family should have been notified of Leon's condition and informed earlier of the process they needed to go through to see him.
She says that such answers were provided only after she began organizing the press conference held this morning at the St. Lawrence O'Toole Center in East Liberty. Fisher is related to Ford through marriage. He is her brother-in-law's brother.
"We need a (better) way to get questions answered," she says. "We have to empathize more and not criminalize an entire family."
At the center, Ford's mother, Latonya Green, stood next to the soon-to-be mother of Ford's child, clutching Ford's high school graduation picture. Avery Roberts is due in January.
Green says she just wants to see her son. "I lost a child already. I can't lose another. I'm so hurt," she said.
Leona Ford, 10, was killed in 2006 after being hit by a truck as she crossed Old Freeport Road in O'Hara.
"I'm the father. I'm strong," Ford Sr. says. "Let the mother in to see him."
Family and friends describe Leon as respectful and responsible, someone who always keeps a job. They say he was driving his own car the night he was pulled over, and that he had proper insurance and identification. He plans to attend CCAC to study accounting and also dreams of becoming a professional boxer, they say.
He is a "beautiful photographer," says one friend. His older brother, 26-year-old Mondale Ford, says he loves nature. "He's the type of guy who will take a picture of a butterfly."
"He's very, very smart," Mondale Ford says.
Family members say they have questions about why he was pulled over and why he was shot by police, but that those are secondary at the moment to just finding out how he is.
Others gathered Wednesday morning, however, say the incident is another tragedy that could have been prevented, and referenced similarities to the Jordan Miles case although they acknowledged many details about Ford's arrest were still unknown.
"In certain circumstances the police over-react, and that has to come to an end," says Khalid Raheem, president of the National Council for Urban Peace and Justice, a local nonprofit community activist organization.
Fisher says there are many questions that need to be answered: "Why was he stopped in the first place? What was the suspicion? Was the encounter necessary?"
City Paper has left a message with Pittsburgh Bureau of Police's spokesman, Diane Richard, and will share the city's response as soon as we hear back from her.