According to activists with Pittsburgh United, there have been an estimated 70 cases (so far) in which voters using a polling place at the University of Pittsburgh had to file provisional ballots, or complained to organizers about confusion surrounding where they were supposed to vote.
One of those voters was Ernestina Gambrah, a Pitt freshman who was originally registered in Philadelphia, but who says she switched her address during Pitt's move-in day this year. Gambrah, like many Pitt students, showed up at the school's student uion building to vote. But after she waited in line for a half hour, Gambrah says, poll workers couldn't find her registration.
In such circumstances, voters can use a provisional ballot — a paper ballot that is not counted until a voter's eligibility can be determined after the polls close. But Gambrah told me she was unaware of that option, and by the time I spoke with her, she'd stepped out of line — and wasn't sure she would end up voting after all.
Though this would be the first ballot she ever cast, "I was kind of pissed," Gambrah said. "I filled out stuff at the right time."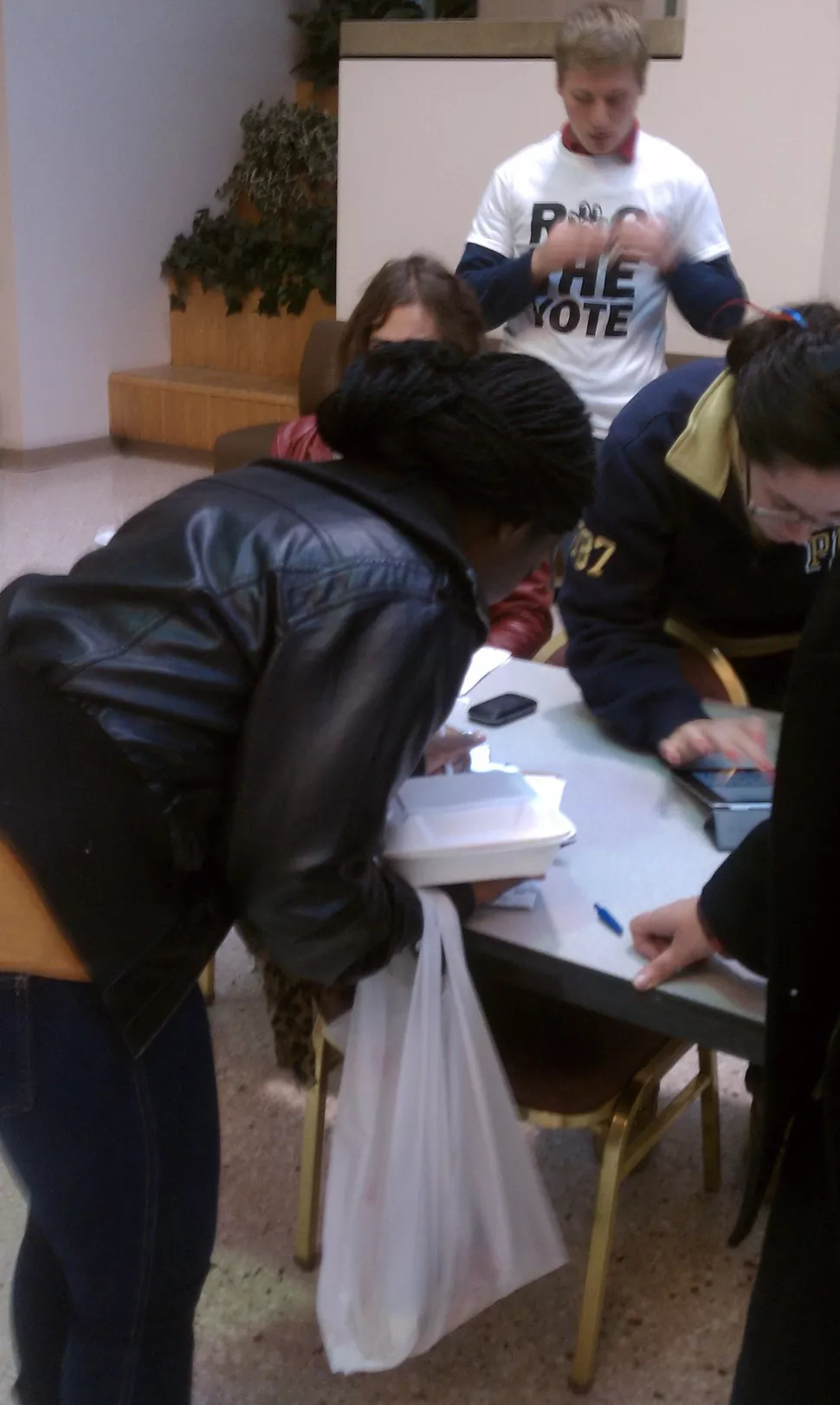 Pitt freshman Ernestina Gambrah fills out a documentation form with Pittsburgh United after pollworkers were unable to find her name on voter rolls at the William Pitt Union
Anne Morrice, a campus organizer with Pittsburgh United, says a number of students have run into similar issues. In some cases, she says, they present their registration card for that location, but their name is not on the printed-out voter rolls that elections officials use.
"I'm really concerned," says Morrice. "All of these students, especially if they are first-time voters, are casting provisional ballots. but if you don't do the follow up work, they aren't counted. A lot of people['s]...voices aren't going to be heard."
While relatively few such complaints have surfaced in Pittsburgh outside of Oakland, voters have been complaining their names are missing from the rolls elsewhere. Especially in < ahref="http://www.citypaper.net/blogs/nakedcity/177510161.html?fb_action_ids=4199888869766&fb_action_types=og.recommends&fb_source=aggregation&fb_aggregation_id=288381481237582" Target="_blank">Philadelphia, where a strong turnout is considered pivotal for Barack Obama's reelection chances.