Former president Bill Clinton stopped in Market Square today to campaign for President Barack Obama and a slate of Pennsylvania democrats for Congress and state row offices.
At the end of the day, Clinton said, Democrats just have a better vision and track record.
"I'd rather have the guy who got us back from the brink of a depression, has led us into the future, has got us on the move, has a better economic plan, a better education plan, healthcare plan, a plan that will produce millions and millions of jobs...leading the way into the future," Clinton said of Obama. The president has "a better argument, and tomorrow if you vote for your hopes and not your fears, if you vote for unity and not division, if you think we can all go together, you will re-elect Barack Obama."
Clinton hit all of the Democratic talking points, touting, among other things, Obama's support of the Lilly Ledbetter Fair Pay Act, the creation of the Affordable Care Act and reforms to the student loan programs. He pointed to Obama's response to Hurricane Sandy and the president's recent endorsement from independent New York City mayor Michael Bloomberg as evidence of successful bipartisanship.
The former president took plenty of shots at Republican challenger Mitt Romney. At one point, mocking Romney, Clinton said, "What's Governor Romney's plan? 'Elect me. I know you're disappointed about something. Elect me. And if you elect me, people will be so happy we're going to get 12 million new jobs. Pay no attention to the fact that I'm going to do exactly what got us into trouble in the first place.'"

Clinton was joined by several Democrats fighting to retain or obtain a seat: U.S. Rep. Mark Critz, U.S. Sen. Bob Casey, state Attorney General candidate Kathleen Kane, and state auditor general candidate Eugene DePasquale.
The lunchtime rally nearly filled Market Square.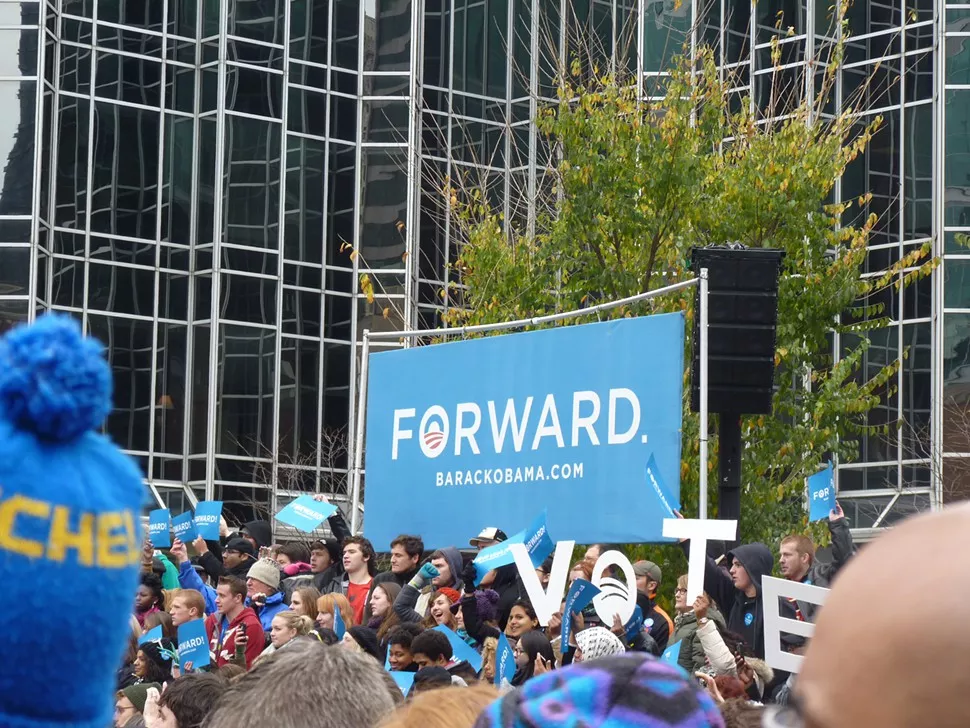 On the perimeter of the crowd, about a half dozen Tea Party protestors carried signs that mostly criticized the administration's handling of the attack on U.S. diplomats in Benghazi. At one point, Obama supporters stood in front of the protestors with their own signs to block their view.
Richard Trumka, president of the AFL-CIO, and Leo Gerard, president of United Steelworkers, also spoke in support of the Democratic candidates.
To view City Paper's election guide for the U.S. presidential race, click here.