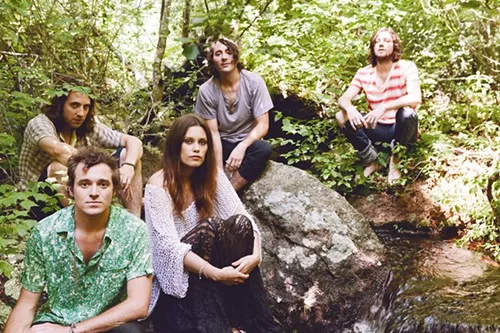 Family of the Year calls itself a family band — kind of like the Partridge Family with instruments, skinny jeans and v-necks, and only two actual siblings. The tight-knit five-piece has been receiving some serious critical acclaim since its early starts in 2009. Their music has been accurately described as "intense and atmospheric" by Rolling Stone and "fun-drenched" by NME (Aerosmith's Steven Tyler even likened them to "The Mamas and The Papas on acid" — seriously.)
But Family of the Year has got a sound that's all its own. The band has a light-hearted California indie-pop vibe, best listened to with the windows down, and makes good use of fuzzy, folky guitars, countless different harmonies and a well-placed tambourine. Chances are you've already heard of them thanks to a little commercial exposure, literally. The song "ChugJug" was used in that catchy Advil ad in 2010, and their next single, "Hero," is set to appear in the upcoming movie "Thanks For Sharing." Keep an ear out during the credits!
Since releasing their full-length album Loma Vista, produced by Wally Gagel (who's worked with the likes of The Rolling Stones, Rihanna and Muse), in July, Family of the Year has been busy. The band has been touring non-stop since August with Walk The Moon, White Arrows and Hey Ocean! The nationwide tour kicked off at in their hometown at Los Angeles' Sunset Strip Music Festival before taking a leap across the pond to play the UK's Reading and Leeds Festivals.
Catch them in Pittsburgh this Sunday, Nov. 4 at the Shadow Lounge, with special guests Polaris B and That Girl. The show starts at 6:30 p.m., and tickets are $10 — get them here.