As a young man, opera star Hao Jiang Tian longed to escape China. Now, after years in the U.S., he's a cultural booster for his native country.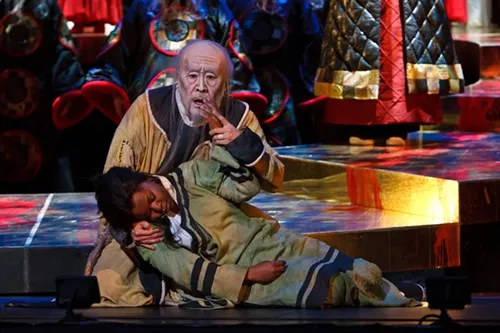 Tian
, as he likes to be called, is in Pittsburgh to star in
Pittsburgh Opera
's
Don Giovanni
. (The above photo depicts him in
Turandot
.) He recently spoke with
CP
about his project that gets young Western singers overseas to study with young Chinese singers.
I Sing Beijing, founded in 2011, involves five weeks of intensive study, including Mandarin language training. The focus is on classic Chinese vocal music.
The most recent group of 21 Western full-scholarship students to participate joined 10 Chinese students. Tian teaches and is artistic director of the program, which he launched with his wife.
Tian was born in Beijing in the 1950s and grew up during Mao's Cultural Revolution. As detailed in Tian's 2008 autobiography, Along the Roaring River: My Wild Ride from Mao to the Met, it was a harrowing time; Tian's own parents were sent away by the Communist government.

But in the early 1980s, he managed to leave China to study opera in the U.S. (He says he knew only four words of English … and three operatic arias.) By the time he first returned, a decade later, the bass baritone — among the first wave of Chinese singers to make it in the U.S. — had sung his first shows at New York's
Metropolitan Opera
.
"When I left China, China had just opened the door to the world," he said in a phone interview. By the late '90s, Tian was back singing in China himself. "Opera is booming there, especially in Beijing and Shanghai," he said.
Grand opera houses, like this one in Guangzhou, are being built at a rapid clip, and Tian says audiences are filling them. "Audiences are very young" — people in their 20s and 30s, he said.
Tian credits the growth of opera to support by both corporations and the government. "It's a very positive thing," he said.
Tian has appeared at the Met some 300 times over the past two decades. twice with Pittsburgh opera, most recently in Turandot, in 2011.
In Don Giovanni, he sings the role of the Commendatore, who is killed in a duel with Don Giovanni after the latter attempts to seduce the Commendatore's daughter … but, in a fantastical twist, reappears as a vengeful statue with a really deep voice.
Don Giovanni gets its first performance at 7 p.m. this Saturday. Three additional performances are scheduled, on Nov. 6, 9 and 11. Tickets are $10-155.