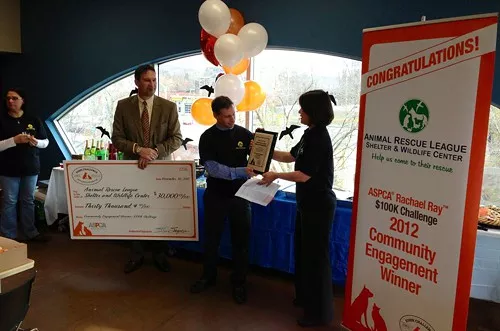 A few weeks ago we told you to hurry up and vote so the Animal Rescue League in East Liberty could win a share of prize money in a national contest, the Rachel Ray ASPCA $100k Challenge. On Friday the ARL received news that they did indeed win $30,000 in the contest.
The shelter, located in East Liberty, is an "Open Door" facility which means it accepts all animals that need to be sheltered. They were competing for the contest's Community Engagement Award which is decided by the number of votes an agency receives on Facebook. The ARL won $25,000 for winning that contest and "an additional $5,000 for increasing lives saved by more than 300," according to an ASPCA press release.
"In addition to saving a remarkable 2,176 cats and dogs in just three months — an increase of 533 animals over the same three months last year — Animal Rescue League did a phenomenal job of engaging its staff, volunteers, supporters, the public and the media," said Bert Troughton, vice president of community outreach for the ASPCA. "Animal Rescue League held unique events, ran creative adoption promotions, reached out to new audiences via various social media channels and enlisted their network of volunteers to help them save more lives."
To Celebrate the Award, The ARL will be celebrating at The Waterfront Town Center (former American Eagle store) with a public pizza party beginning at 6pm.
The full release appears after the jump: