The Sewickley Arts Initiative is readying an intriguing exhibition that should attract gamers and people interested in social issues and education, not to mention art-lovers.
Input/output is a show by artists who use games to present interactive art addressing social issues such as immigration.
"These artistic games highlight how a didactic message is understood through play," says a press release.
The forms range from board games to mobile apps, and the works sit alongside examples of classic games like Frogger, Tank and Battleship.
A screen grab from Rafael Fajardo's video game "Crosser" gives some idea.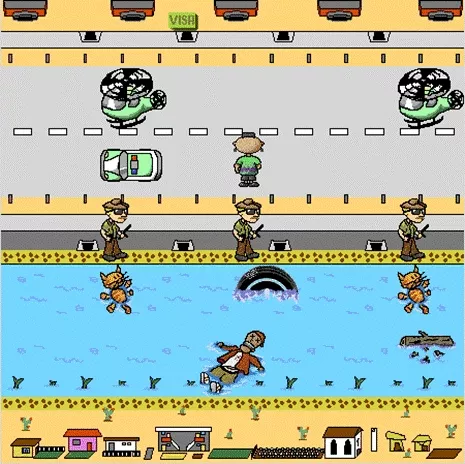 Fajardo is an associate professor of Electronic Media Art & Design at the University of Denver.
Other participating artists include Francisco Ortega-Grimaldi, assistant professor of communication design at Texas Tech University, and Devin Monnens, assistant course director of Game History at Full Sail University.
Sewickley Arts Initiative was founded in 2010 by independent curator Ingrid LaFleur and artist Timothy Hadfield, head of the media arts department at Robert Morris University.
Input/output opens tomorrow, at 419 Beaver St., Sewickley, with an opening reception from 6-9 p.m. The show is also open 11 a.m.-5 p.m. Sat., Oct. 27.