Pulitzer Prize finalist Matt Bors, whose smart political strip "Idiot Box" graces CP's news section each week, is trying to fund a self-published collection of his work, including original humor essays.
The 225-page anthology will be titled Life Begins at Incorporation, referencing Bors' riff conflating pro-life zealotry with the right-wing insistence that corporations are people. My friend.
This former Pittsburgher's cartoon world is one in which female body parts become superheroes like the Avenging Uterus, bringing justice to a world gone mad.

In his newly posted
Kickstarter video
, Bors says the essays in his book will introduce chapters of cartoons, with themes ranging from religion and gay rights to, of course, "politicians who don't know how
vaginas
work."
When he's not taking down conservative know-nothings, Bors also rips on the Obama administration's still-raging "war on terror," including murderous, extra-legal drone strikes in Pakistan.
The book will also include work from Bors' unembedded 2010 trip to Afghanistan.
Despite shrinking page counts in print publications, "People still really like political cartoons," says Bors on his Kickstarter vid.
As of today, with 29 days still to go in his campaign, Bors had already made nearly half of his $20,000 goal. He has one backer at $550 or more (the "Medal of Freedom" level), and two at $350-plus.
Bors says he'll use the funds to take some time off free-lance work for writing, and to hire an editor and designer to help him finish the book. "I want it to be fucking good," he adds.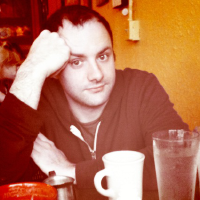 Besides
CP
, Bors' work appears regularly in
The Sacramento Bee
and
Portland Mercury
, and on Daily Kos. He also has print and web credits in the
L.A. Times
,
The Nation
,
Village Voice
and The Daily Beast, among many others.
Bors is the comics journalism editor for Cartoon Movement, a website devoted to international political cartooning.
Last year, the Portland, Ore., resident was the first alt-weekly cartoonist to win the prestigious Herblock Prize.
The Canton, Ohio, native is an Art Institute of Pittsburgh grad who started cartooning in 2003, after the U.S. invaded Iraq.
He doesn't get back here much, but in 2010, he visited to promote War is Boring, a graphic novel he illustrated, written by conflict journalist David Axe.