Transit activists and community organizations have been considering Bus Rapid Transit since at least 2010, and there are plenty of community meetings you can attend for more information. But if you want a hands-on way to chime into the discussion, try this new simulator that lets you design your own system.
The module opens with the proposed plan that's being explored — running more streamlined and faster bus service between Downtown, Uptown, the Hill District, Oakland and the city's eastern neighborhoods. The software allows you to modify everything from bus type, station design and amenities, branding, displays and fares, while showing you travel time, ridership, economic indicators and budget for your proposed plan.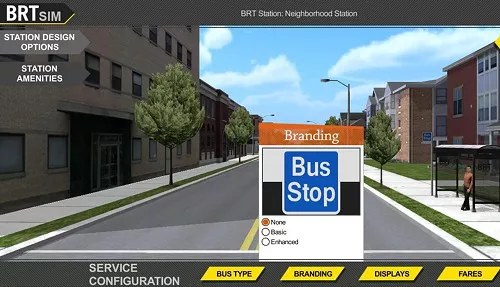 Got an idea you like at the end of the simulator? It allows you to submit to planners and Get There Pgh, the coalition of groups discussing if BRT is right for Pittsburgh.
If you'd rather check out the plan in person, public meetings are held frequently. There's one tonight from 6 to 8 p.m., at UPMC Mercy Hospital's Sr. Ferdinand Clark Auditorium, 1400 Locust St., Uptown; as well as a meeting from 5:30 p.m. to 7:30 p.m., Oct. 11, at the Elsie H. Hillman Auditorium at Kaufmann Center, 1825 Centre Ave., in the Hill District.