The burgeoning local beekeeping community must be abuzz (sorry) with word of this visit by Tammy Horn.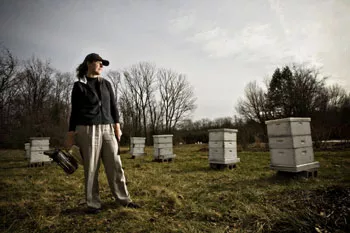 Horn is author of three books on bees and beekeeping, including 2005's
Bees in America: How the Honey Bee Shapes a Nation
. Central to her writing is the crucial role bees play in pollinating our food and other vital plants.
Tomorrow, Horn visits Bloomfield's
Big Idea Cooperative Bookstore
to discuss her forthcoming book,
Apiforestation: The Future of Beekeeping
. This one's about using beekeeping as a reforestation tool — and even simply restoring bees to areas that have lost them, like parts of her native Kentucky.
The talk is free.
Horn was an English professor who first took up beekeeping (working for her apiarist grandfather) in 1997. She went on to study industrial-scale beekeeping, and specialized in using beekeeping as a way to reclaim old coal-mining sites.
She currently chairs the Appalachian-studies department at Kentucky's Berea College, but continues to promote beekeeping through groups including
Coal Country Beeworks
. Her other books include
Beeconomy: What Women and Bees Can Teach Us About Local Trade and Global Markets
, which profiles international women beekeepers.
The Fri., Sept. 28, talk at Big Idea is free. Doors open at 6:30 p.m. Afterward, the nonprofit group
Burgh Bees
co-hosts a Tea-and-honey tasting.
Big Idea is located at 4812 Liberty Ave.