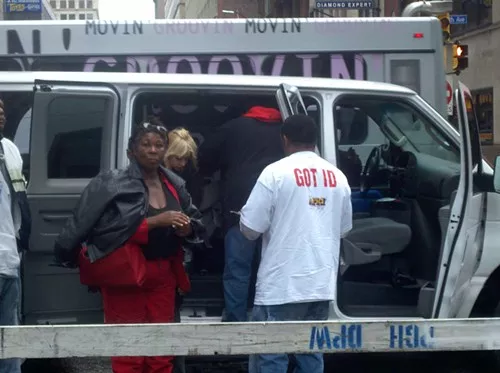 The "My Vote, My Right" rally outside sponsored by the AFL-CIO was in full swing by 10:30 Tuesday morning with several people already going through the process of getting a new or renewed ID card.
Officials say about four large van loads of registered voters had already been brought downtown to the Smithfield Street driver's license center location with many more planned throughout the day. A volunteer assisting voters inside the facility said the wait times weren't too bad — about 10 to 20 minutes.
Some citizens did report some surliness on the part of PENNDOT workers and City Paper saw very few smiles on workers' faces. Outside, though, the mood was more upbeat. As people came out with their new IDs, they were given a t-shirt and met with smiles.
Organizers and those in attendance were pleased that things were running smoothly, but still not happy to be doing it at all.
"That we have a restrictive law like this is sad," said Nolan Harrison, a former Steelers player and Senior Director of Former Player Services for the NFL Player's Association. "I'm out here because we have members of our union, players form the 1950s and 1960s and even young players, who could be denied the right to vote.
"Our parents and grandparents could be denied their voice and there's something wrong with that."
Allegheny County Chief Executive Rich Fitzgerald, who also stopped b the rally Tuesday morning, called the voter ID law a "huge waste of resources."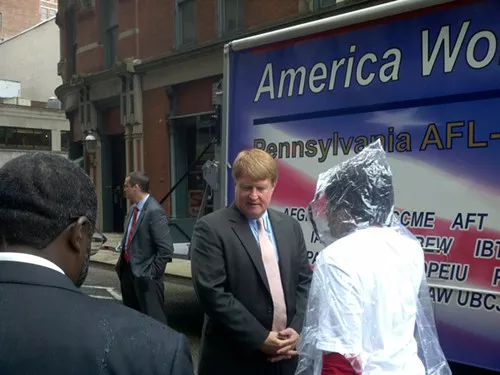 However, he said, the law may not wind up having the outcome that Republicans hoped it would.
"Honestly, I think this has energized people," Fitzgerald said. "When you try to deny people their right to something they'll come back and fight even harder for it."
The rally and Voter ID assistance will continue until 4:15 today.