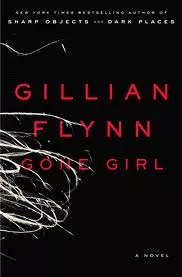 I'm a couple months late in raving about Gillian Flynn's twisty new thriller
Gone Girl
, but I had to wait for my library copy to arrive. This was the most perfect piece of summer reading — mystery + dysfunctional relationship + mean-funny — that I am now recommending for fall.
In it, two thirtysomething married bohos tumble from their Brooklyn idyll to a small town in Missouri. (They are partially undone by the crappy economy: Nick gets canned from his magazine job, and Amy has been living off the fumes of her parents' children's book series based on her.) The tale opens on a seemingly ordinary day — in which Amy simply disappears.
Flynn, a former TV critic for Entertainment Weekly who has likely learned a thing or two about the effective pacing and cutting of a narrative, unfolds the story in two parts: One is told from Nick's perspective, as the ongoing mystery of what happened to Amy, and how Nick becomes a suspect in her disappearance; the other is Amy's diary, beginning some five years ago with the couple's meeting.
Call it sweet and sour, as Amy's chirpy entries collide with Nick's fraught, and increasingly anger-filled, nightmare. The two tales don't jibe, but then we haven't a clue which party — if any — is a reliable narrator. Suffice to say, as much as these two streams reveal about Amy, Nick and their dinged-up relationship, there are even more jaw-dropping revelations ahead. Not to mention some entertaining critiques of cable-TV-crime-as-entertainment complex, people who think they're smarter than you, and how gullible we can be when presented with "facts."
Flynn's smartly written thriller had me back at the library, requesting her two earlier thrillers — Sharp Objects, a Grand Guignol of a mother-daughter-sister tale, and Dark Places, which I'm still waiting for with happy anticipation.