In today's installment of Localism, we look at some currently funding crowd-funding projects based out of Pittsburgh.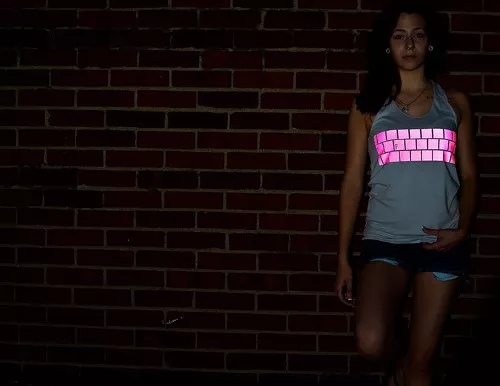 Photo from Kickstarter campaign page, by Lauren Boback
Reflective clothing, part of teh FLKS Kickstarter campaign
For starts, there's only a day left to put some cash into what seems to be a great idea: stylish reflective clothing for maximum night-time visibility. Every little bit counts if you're a cyclist, pedestrian or runner who goes out after dark! Some of the most popular backer levels are already sold out, and the project is already funded, but you can still get cool premiums at a few levels, and also contribute to starting a good business idea.
Also fully funded, but still more funda-ble: A new LP from local slowcore/dream-pop types Sleep Experiments.
Not yet funded is a project in which some theater-tech types from Pitt put on a horror show to raise money to go to a national conference.
Over on Indie Go Go, members of the band Prometheus Burning are putting together a compilation of local electronic music artists to benefit organizations fighting lung cancer.
I can't comment on the past work of the folks behind Yinzers in Cars Getting Iced Tea because, while the campaign page says "you may be familiar with our work," it doesn't say who the hell they are. But it looks like a good idea! And it's gonna need a lot of contributions to meet its $4,500 goal by Sept. 15. Also, I'm hoping that by posting this, I'm getting a prime seat as one of the yinzers who get the iced tea.
And last but absolutely not least: These guys want to make "the best portable draft system on the market." The PortaKeg. That's right. A portable keg system so you can enjoy draft beer wherever the hell you are. Go forth and pour, friends.