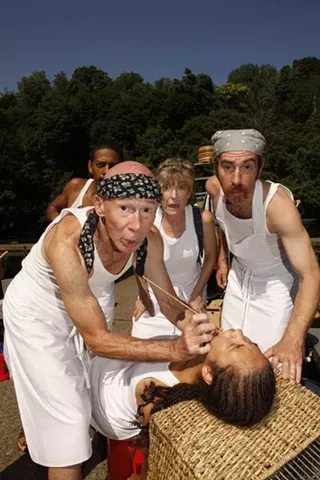 While it's less-mind-bending and more accessible than some Quantum shows, playwright Roland Schimmelpfennig's take on immigration, globalization and the gulf been the world's haves and the have-nots will still hit a lot of people sideways.
That's one side effect of having a five-person cast playing 17 roles, and regularly crossing lines of race, gender and age, to tell several interlocking (but not necessarily synchronous) stories.
Not to mention staging the show outdoors, on the branching concrete pier of Highland Park's Lake Carnegie. Or that it's a rotten incisor, pulled from the screaming mouth of a Chinese kitchen worker in a European city, that breaches the wall between struggling immigrants and the privileged Westerners who barely apprehend their existence.
But the cross-casting (which is written into the script) is itself one of the keys to this 2009 work (which I previewed for CP).
Here's an example. Cast member Aidaa Peerzada's main recurring role in the play is that of the young male kitchen worker with an awful toothache. But her other principal role is that of a Western male, "the man in the striped shirt," who's drinking himself into an angry stupor after learning his lover had an affair.
After her character's tooth is yanked (with pliers, in the tiny restaurant kitchen), Peerzada spends the rest of the show in a shirt streaked in blood. But that's a little foreshadowing, too: The striped-shirt man ends up dealing in blood, too, but not his own. At play's end, Peerzada is toggling rapidly between playing an innocent global-south victim and portraying a careless global-north victimizer. 
That's one expression of Schimmelpfennig's radically humanist vision, imaginatively realized by director Karla Boos and the rest of the cast and crew. Even while bringing into sharp focus the distance between the have and the have-nots — and the willful ignorance of the former by the latter — the play never loses sight of their common humanity.
Here's
CP
critic Robert Isenberg's
review
of the show.
The Golden Dragon continues through Aug. 26.