Holding signs that said "285," "Our kids need teachers," and "Our city needs these jobs," several dozen educators, parents and children gathered in front of the Pittsburgh Board of Education Wednesday afternoon to protest education cuts and attract media attention for the 285 teachers furloughed by the Pittsburgh School District in May.
Jessie Ramey, the founder of the blog Yinzercation, which details the reasons to be against Pennsylvania Governor Tom Corbett's cuts in state education spending, led the group in chants for "adequate, equitable and sustainable public funding of education."
"We're here today because our children need their best teachers in the classroom, not the unemployment line," she said.
Amanda Godley, a parent of an 8-year-old soon-to-be fourth-grader who attends Colfax in Squirrel Hill, said she was worried that class sizes will increase.
"We're really concerned that the Governor is decimating education," she said.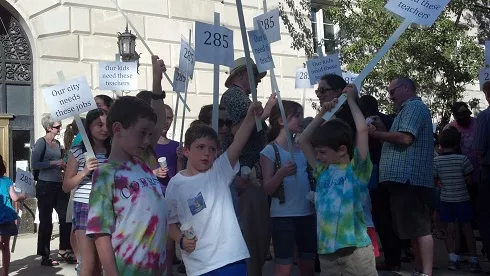 Michelle Boyle, a parent of two daughters, a 6-year-old and a 9-year-old who attend Fulton in Highland Park, said she felt the teachers have been doing what the state has asked of them, improving test scores and making significant improvements.
"The state government is not holding up its end of the deal," she said. "What the governor is doing is criminal."
The protest, which started at about 6 p.m., was brief. By quarter to 7 p..m., the signs were collected and stashed.