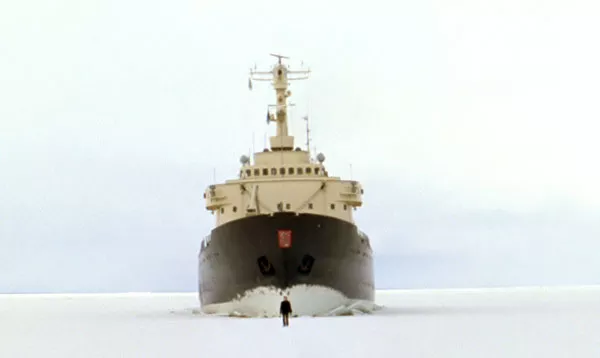 A notable element of the Distinctively Dutch arts festival was a preponderance of multimedia. I didn't catch all the festival performances, but nearly every one I did see incorporated video heavily, from the performance art of Wunderbaum's Detroit Dealers and PIPs:lab's Diespace to the sensory overload of JacobTV's avant-opera The News. 
No surprise, then, that the larger of the festival's visual-art exhibits is also heavy on video. Global Navigators is spread over three galleries: Wood Street, Space and 709 Penn. Nadine Wasserman has already reviewed this intriguing show for CP, but here's a final nudge to see it before it closes this weekend.
Two works in this group show especially struck me. At Wood Street, Peter Bogers' "Unleashed Content" is a room-sized video installation with 36 video projections in a grid, each connected to a speaker hanging from the ceiling. (Don't mistake the speakers for mere sculptural elements, as apparently many visitors do at first.) Bogers took the unruly results of Internet video searches for words like "fight" and edited them into a synchronized spectacle that might bowl you over. (Wood Street also houses "Nummer acht, Everything is going to be alright," a darkly humorous high-concept video by Guido van der Werve, a still from which is pictured here.)
And over at Space, I spent some quality time with Mark Boulos' "No Permanent Address." It's a five-screen video document of his stay with some Maoist guerrillas of the New Peoples' Army, in the Phillippines. The segment I saw depicted a small group of men and women camping in the jungle, awaiting a firefight with enemies whom they believe to be just 300 yards away. They carry automatic weapons; they sing "The Internationale"; they tell what drove them to guerrilla warfare. In general, they seem to be ordinary people driven to the edge. (One masked young woman wears a butterfly barrette in her hair.)
As demonstrated by the terrific Girls 'N Guns photography show, which recently closed at 707 Penn gallery, the artists in the Pittsburgh Cultural Trust-organized Distinctively Dutch Festial don't need video to succeed. But they definitely know how to use it.
Global Navigators closes Sun., June 17.