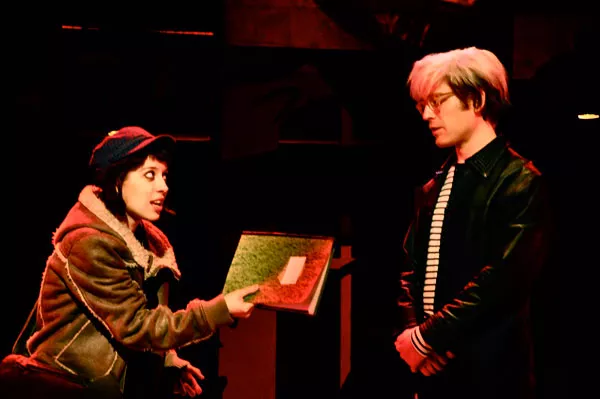 One reason this new musical was big news in Pittsburgh, of course, is that everyone knows that Andy Warhola was born and grew up here. (Everyone in Pittsburgh, that is — no doubt most of the world still wonders why the museum named after him is located at the confluence of the three rivers.)
This terrific show's book-writer and lyricist, Maggie-Kate Coleman, and composer Anna K. Jacobs insist that POP! isn't a Warhol bio, and they're right: It's a carnivalesque portrait of him through the lens of his relationships at his legendary Factory, as occasioned by his near-fatal shooting, in 1968. (Here's my preview for CP.)
But POP! does deal with Warhol's roots, and in way that's probably perfect.
The moment comes late in the show, which is structured as a vaudevillian detective mystery, emceed by charismatic transsexual Candy Darling and featuring Factory regulars Edie Sedgwick, Ondine, Gerard Malanga and Viva, plus hanger-on (and would-be assassin) Valeria Solanas. (Pictured are Alyse Alan Louis, as Solanas, and Rapp as Warhol.)
Warhol himself, played by Anthony Rapp, is largely a spectator to the goings-on — also entirely appropriate. But the scene in question comes just as the Factory denizens' discontent with Warhol's passive-aggressive puppeteering begins to boil over ... and POP! starts feeling less like an amusement staged for his benefit and more like something he really can't control.
Andy, who's just been wowed by the appearance of the Pope (as played by Ondine), is suddenly found protesting the proceedings as Candy (the brilliant Brian Charles Rooney) dons a babushka to play Julia Warhola, his beloved mother, complete with Eastern European stage accent.
"Julia" sings:
Me Endy was good Cat'lic
Always go with me to mass
He didn't tell his friends
He come from Pittsburgh working class
 "Mama," Andy protests fruitlessly, "We live in New York now!"
More embarrassing revelations follow, including Andy's childhood health problems. Thus, in a few minutes, Coleman and Jacobs suggest some of the insecurities that helped make Warhol who he is.
Anyway, great show, complete with live band. (Here's Ted Hoover's CP review).
There are five more performances at City: tonight and tomorrow at 8 p.m.; 5:30 and 9 p.m. Saturday; and Sunday's 2 p.m. matinee.