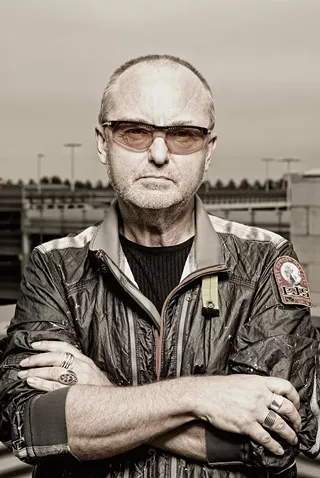 There was more than enough for the eye — and ear — at this world-premiere "nonfiction opera" by Dutch composer JacobTV, at the Cultural Trust's Distinctively Dutch Festival. But while some (including me) felt a little overwhelmed by the sensory overload in this two-hour work, there still was more to it than met the eye (and ear).
Saturday night, the audience was faced with a nine-piece band, two singers ... and a video screen as wide as the Byham Theater's stage. JacobTV's innovation is to create music that complements and comments on manipulated footage from the global news media — mostly people talking, from weatherpersons to Silvio Berlusconi to Arab Spring protestors in Tahrir Square.
The images were usually doubled, left to right, and often color-adjusted, to look as garish as possible; blazoned with text, whether as captions or large-scale graphic elements, also in motion; and tweaked to stutter, a la the scratching of a hip-hop DJ, or else slow-mo'd.
The band —  a brass section, guitar, bass, keys and percussion — played an eclectic score combining jazz, funk, reggae and arrangements you might hear in a more conventional opera. Then there were the "anchors," the wonderfully talented pairing of jazz vocalist Lori Cotler and lyric soprano Josefien Stoppelenburg, harmonizing with the pre-recorded audio or else commenting on it.
It was sometimes hard to know what to focus on.
But the overall effect was powerful, and often powerfully amusing. In an interview with CP prior to the show, JacobTV made The News sound like a largely uncurated ramble through media tailings. But the work was clearly constructed with commentary in mind.
You don't, for instance, start out with "666" floating across the screen, over images of a vacant-eyed TBN anchor who seems to be describing the Antichrist, if you're doing the operatic equivalent of channel-surfing. 
And you don't follow that by mining the spastic gestures and theatrical vocalisms of a manic, porcine TV preacher for all the humor they're worth unless you're trying to make a point.
JacobTV, it should be noted, also acknowledges a European fascination with the effusiveness of American TV personalties, whose Continental counterparts are much more reserved.
Act I did tend toward the jokey. Glenn Beck's Fox News interview of Sarah Palin was re-edited to resemble a sort of "Who's on First?" routine about trust. Paris Hilton's "interview" of Lady Gaga was likewise lighter than helium, and there was comic menace in a spot featuring a perhaps-drunk Hank Williams Jr. 
Most intriguing, though, were segments from financial shows, where the know-it-all arrogance of the anchors and reporters attempted to mask the desperation they were reporting on even as they betrayed it. Key phrases, stutter-repeated for effect, included "25 billion on top of that" and "short-term pop." This was also a good scene to note, in slow motion, how smug TV newspeople look.
The first scene of the second act set the tone for a much less comic experience: testimony from a Somali refugee, a young woman who fled violence with her children and is now living in a huge camp. A rundown of American war casualties was accompanied by an aria sung by Stoppelenburg. Even the sight of an apoplectic John Coleman, founder of the Weather Channel, calling global warming "a total scam" ("we're all going to do just fine!"), was good for only a few bitter chuckles.
JacobTV's sympathies don't seem especially hard to discern. The News features biting takedowns of Donald Rumsfeld, Silvio Berlusconi and Vladimir Putin, while Michael Moore (exhorting Occupiers) and Barack Obama (pre-2008 election) are presented without discernible mockery.
Still, JacobTV's real subject in The News is not any individual or ideology, but the media itself. His program notes quote Philip Roth and Bob Dylan about how media tends to blot out poetry and imagination. It's hard to argue. Fortunately, at least in this case, the media seems mostly to have inspired JacobTV's imagination.