A couple of weeks ago, music-critic-whom-I-respect Ann Powers tweeted:

I'd been aware of and interested in Van Etten since she was playing the galleries, before last year's Epic broke, and interviewed her before last year's show at the Carnegie in Homestead, but I somehow couldn't pull off seeing her live until this weekend. Given the high praise from a serious critic, I was excited on Saturday night to check out the show and see if it lived up to the hype.
In short: yes and no.
At its highest points, Sharon Van Etten's show was the most powerful I've seen this year. But it took a little while to get going. The apex of the night came with the last couple of songs, louder, more epic rockers (including "Serpents," a Neil Young-and-Crazy-Horse style jam that's the strongest track on this year's Tramp). After that, we had no choice but to demand an encore; we'd just experienced ten minutes of next-level performance in which Van Etten's band proved themselves. (Though, to be fair, they were tight throughout the night, and Heather Woods Broderick's backing vocals were essential.) After those songs, the band could do no wrong — they had the effect of a palpable confidence boost for both band and audience. Which makes one wonder: Why didn't they come earlier in the set, to set the tone?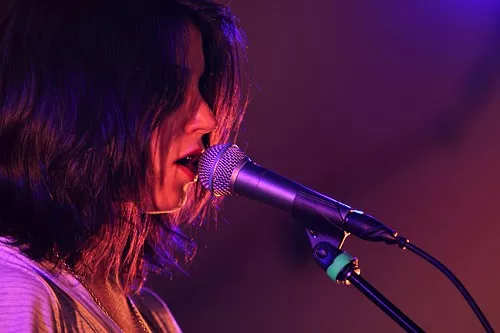 Photo courtesy of Hugh Twyman, Hughshows.com
Sharon Van Etten at Carnegie Lecture Hall
Early on, things were kind of restrained — due in part, definitely, to a tripped-out dancing girl up front who was a bit distracting, and a few loud but not particularly helpful audience members throughout. But even taking those issues into account, there were too many awkward silences between songs, not enough smooth transitions. When you're a solo musician, those are part of the package. When you've got a full band, there are ways to cut down on them, or cut them out completely ... one person can tune while the others are playing! More than one person can chat between songs! When you're a rock band, minute-long silences between songs let the air out of the room.
Last year's Epic , while it was the album that broke her for a more mainstream audience, felt like a transitional album, away from Van Etten's slightly more esoteric earlier songs toward a tighter, more cohesive sound. Tramp feels like an arrival. Her live show feels like it's just about to catch up: like she's still figuring out the difference between performing as a solo artist (with all the challenges that entails) and leading a band (which requires a different sort of energy). At moments, she and her band have it, and are the best thing going right now. At times, it feels just out of reach. But it always feels imminent.
Opener Flock of Dimes was the live-band incarnation of the solo work of Jenn Wasner, of Wye Oak. As those of you who pay attention (hey, mom!) may recall, Wye Oak released one of my favorite albums, and definitely my favorite song, of 2011. Flock of Dimes is a bit of a mishmash: some tunes that sound close to the Wye Oak catalog, some that sound like Jenn Wasner trying her best to be a pop star but being a bit too naturally broody and wonderfully weird to know exactly how to do that. It was a bunch of good stuff, and showcased one of the most beautiful voices in contemporary music, but wasn't exactly cohesive. But hey — what more can we ask of a band that didn't really exist just a few months ago?