This week's CP includes a short Q&A with Canadian singer Jill Barber, who makes her first Pittsburgh appearance this Sunday at Hard Rock Cafe. Here's the longer version of our interview with her.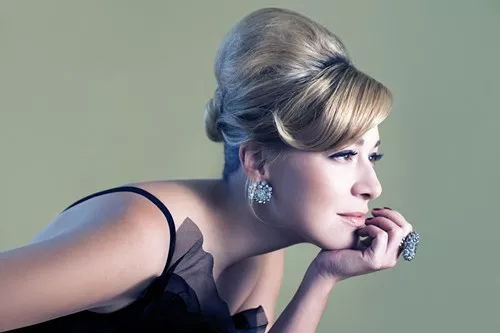 Photo courtesy of Ivan Otis
Jill Barber
How long have you been doing music as a career?
I started playing music and writing songs as a teenager just at home, and from that time was getting little coffeehouse gigs all through high school. Then I went on to university and it got a little more serious; I was playing clubs and formed a band. Then I went through university and had to get a job; I worked a desk job for about eight months before I left that and decided I needed to pursue music full-time. So I've essentially been a professional for all of my adult life. I've been a full-time professional musician for coming up to ten years now.
That's a lucky thing — a talent-y and lucky thing!
Absolutely. There are so many incredible musicians out there that have other jobs and distractions and things; I do feel lucky, absolutely.
You've undergone something of a transformation in terms of your music; your earlier stuff is more girl-with-a-guitar, folky stuff and your newer stuff is much different.
I've always thought of myself as a songwriter first, but as you say it's evolved. I think what happened is — I was writing songs on the acoustic guitar, and they were folky sounding songs, but I was listening to a lot of different types of music. I've always loved older music; in university I got a record player, so I discovered a huge collection of older vinyl. I'd put on these records that had an incredible, full orchestration — Ella Fitzgerald, say, Nat King Cole — and it was like movie-soundtrack, over-the-top romantic, beautiful, lush music. They were songs, just as I was writing songs, but they were kind of produced in this beautiful kind of complex way. So I started working with other musicians, essentially. I started working with a producer and he helped broaden my palette of what I could do musically: how I could take a song and kind of elevate it into, I don't know — a real song, you know, with full orchestration.
And because I'm not a musician with any sort of musical theory, training background, I started working with people who are arrangers and I work with a full band now. It was always sort of my dream when I was a solo artist to have my own band, and now I have it ... and sometimes I wish I was a solo artist. [Laughs]
I started collaborating with other musicians and I put down the guitar a lot, actually, even in the writing process, because I'm not the world's greatest acoustic guitar player, I found it kind of limiting. So these days, I write a lot of my stuff a cappella, which leaves space for production and what kind of music I want to put underneath the songs.
I'd guess that would make it fun for the musicians you're working with, too.
That's right. My band are all hugely involved in the creative process. And that's great for me: It was lonely just writing by myself, and I really love collaborating with other musicians. That was a lot of the change — that and listening to a lot of music that inspired me and I started to realize that I could make that kind of music, as a girl with a guitar and a few friends.
Was the old standard music something that you were exposed to growing up — parents, family that listened to that stuff? Or did that really all come when you were in your 20s?
I came to it more on my own in my 20s, in my bohemian phase when I'd sit around and listen to records and kind of ... brood. My parents are amazing people but didn't really provide me with a fantastic musical foundation. Lionel Richie, my mom's a big James Taylor fan. A lot of classical music. But I think I had to seek it out on my own. I have to give some credit to my older brother. My older brother is also a professional musician, and he introduced me to a lot of music as a youth. I had a bit of a musical education at home, but not so much from my parents.
That's interesting that two of you became professional musicians when your parents weren't particularly invested in music.
Yeah. It boggles their minds as well, believe me.
The new album has that very old, organic sound — how did you pull that off in the studio? Did you go analog?
It's not analog. I have to hand it all to my producer, his name is Les Cooper. I did three records with him and the first record we did together we did analog, then we just went digital. The musicians know how to play to make it sound organic. As much as possible, we played the songs live; there were a lot of overdubs as well. I'd be lying if I said we just got in a room and played all the songs. It was a pretty involved process, making the sounds on the record.
Going from someone who's writing songs with a guitar and playing that, to having a full band behind her — there's a whole different persona going on there. I think when you're playing music that's folk-based, it's just you and your guitar, there's often an assumption that you're presenting yourself in this very genuine way, and writing personal songs, whereas when you get up and your in front of this big band, and you're a singer, there's a tradition in that kind of music that it's less about who you are, and is more about delivering songs and ideas. Was that a transformation you felt?
Definitely my writing style has changed. I think in the early part of my career, when I was writing folky, country songs, it was all about me, and that really personal, honest approach to songwriting. I think these days I do try to write songs that are bigger than me. It's very pompous of me to say this, but every time I write a song, I do try to write a song that carries on the tradition of the great standards. Because I just — I don't want that tradition to die. I know I'm on the record here, but I'm gonna say it anyway: I love the old standards, but I'm tired of hearing jazz singers sing the same songs from 50 years ago. Somebody has to step up and write new standards. Now I think, I do write songs — they're honest in the sense that I put a lot of myself into them, but they're not necessarily about me. They're maybe about bigger themes, and songs that somebody else could easily sing, whereas maybe in my earlier folky days, some of those songs, nobody would ever want to cover them, they were so personal and about me. But I think that's a maturation, an evolution, and it's me feeling more confident as a writer, feeling like I can write great songs that will hopefully have a lifespan beyond just me singing them on a stage or in a coffeehouse. I'm kind of reaching for the stars a little bit more with my writing.
And in terms of the presentation, I think it comes across in the presentation. I think it's more bold for me to stand up in front of a really great band and just deliver songs — it is very different. But, that said, I always feel that there is an intimacy at shows — I try to create an intimacy at my shows. And I always, for better or for worse, need to feel a connection with my audience. Sometimes to a point where I wish I didn't need it so much. I think in terms of my connection to the audience, that part hasn't changed. I'm not just up there like a diva presenting my songs and people have the privilege of listening. I need to work pretty hard every night — some nights harder than others — to have that connection, because it's more challenging now that I'm not just a solo acoustic guitar player.