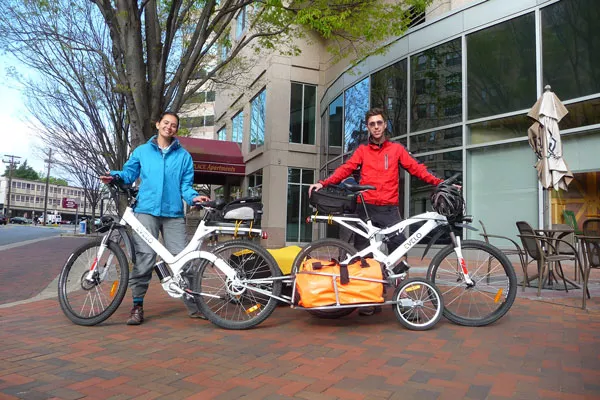 If you want to know more about electric bicycles, here's the perfect opportunity to ask two people who are becoming intimately acquainted with theirs.
Boris Mordkovich, 26, and Anna Mostovetsky, 25, mounted their electric-motor-bearing two-wheelers on April 7, in Brooklyn, and headed south for Washington, D.C. Ultimately, by mid-June they plan to arrive in San Francisco — a 4,000-mile journey without a drop of gasoline consumed, but accomplished with notably more ease than under pure pedal power.
And they say they can do the whole trip for less than $20 in electricity each, or the equivalent of 1,000 miles for the cost of a gallon of gas.
The Trans-American Electric Bike Tour is the brainchild of Boston-based Mordkovich, a co-founder of New York's EVELO Electric Bicycles. He's trying to promote electric bikes for both commuting and recreational purposes. Joining him is Mostovetsky, an old friend and cycling partner from Washington state. (That's them in the photo.)
Along the way they've planned some 50 stops in bike-friendly cities, for speaking engagements and other events. While they weren't able to arrange anything formal in Pittsburgh, they're open to impromptu coffees or group rides; interested parties can contact them through their website.
The bikes they're riding are EVELOs. You can power them with your legs, with straight electric power or some combination of the two.
While the two experienced cyclists are pedaling the whole way, says Mordkovich, the motor-assist comes in handy on hills.
The logistics for what Mordkovich calls "the first coast-to-coast self-supported journey on two electric bicycles" are pretty simple. Traveling alone (without support vehicles), the pair plan to average 80 miles a day, said Mordkovich, speaking by phone last week from a rest stop just outside of D.C.
Each is towing a trailer full of gear (55 pounds for Mostovetsky, 75 for Mordkovich). Mapping the route is also straightforward. "We do what the GPS tells us," quips Mordkovich, though they avoid major highways in favor of back roads. Each cyclist carries a second lithium-polymer battery to extend their range, and all the batteries are recharged at night.
The cyclists find accomodations via tour sponsor Airbnb, a web-based outfit that arranges rentable accomodations for travelers.
Mordkovich says that while electric bikes are popular in Europe, Americans either confuse them with motorcycles or lump them with fitness gear, rather than regarding them as everyday transport. (Electric bikes also don't come cheap; new EVELOs, for instnace, start at $1,695.)
But Mordkovich says the trip's raising awareness. "People are really receptive to it," he says.
At the moment, Mordkovich and Mostevetsky are probably somewhere on the Great Allegheny Passage that runs from D.C. to Pittsburgh.
After they traverse Pittsburgh tomorrow, it's on to Ohio and points west, including Ann Arbor, Mich., and Chicago.