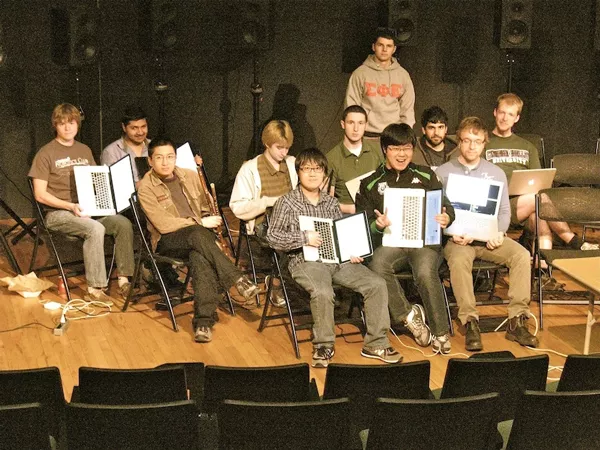 The Orchestra joins six other universities in the U.S. and U.K. for a video-chat concert on Mon., April 16.
During the joint performance, orchestras in each location will use online audio and video links to hear and respond to their counterparts from thousands of miles away.
The Federation of Laptop Orchestras will be directed by Carnegie Mellon's Roger Dannenberg, associate research professor of computer science, music and art. He will direct the concert from Louisiana State University, in Baton Rouge, host of the first Symposium on Laptop Ensembles and Orchestras, April 15-17.
Dannenberg says the Laptop Orchestra's music consists of a variety of samples, ranging from acoustic instruments to electronic and even environmental sounds, all activated via keyboard and layered in one harmonious melody.
"Some of the orchestras are using their own sounds," he says. "From the conducting standpoint, I ask for sound qualities and texture, but the specific sound choices are left to the performers."
Students in Dannenberg's course titled Computer Music Systems and Information Processing are currently developing the software that made possible this collaboration.
About 18 students from the university's Laptop Orchestra will play at the University Center's McConomy Auditorium at 8:30 p.m. Monday. The performance is open to the public.
The performances will also, of course, be streamed online; information will be available prior to the performances on the SLEO website.
Increasingly, laptop computers, smartphones and tablets are providing artists and researchers with an opportunity to generate music and manipulate sounds in new ways, with input devices that even respond to finger, hand and body movements. One example is the iPhone's accelerometer sensor, which lets you alter beats by simply tilting the device.
Although the new research in the field of computer music is opening doors, it also comes with its limitations. According to Dannenberg, trying to synchronize musicians with sound and video over the Internet presents one major challenge: compensating for the speed of light.
"We're sending sound and video between computers over the Internet," he says. "It takes light about a tenth of a second to travel from California to the U.K. and back, which is a long time in musical terms. It's nearly impossible to synchronize musicians with delays this large."
To compensate, Dannenberg says he will give cues for the orchestras to play with different textures or sounds. 
"If we emphasize sonic texture over rhythm and synchronization, that helps to deal with the long time delays," he said.
Acoustic soloists at each location will also provide contrast to the electronic sounds generated by the laptops, as they play through external speaker systems for the live audiences.          
Dannenberg played an essential role in the development of the Piano Tutor, interactive software that enables a student to obtain first-year piano proficiency in less than 20 hours. He is also co-designer of the Audacity audio editor and recording application, which won the SourceForge.net 2007 and 2009 Community Choice Award for Best Project for Multimedia.