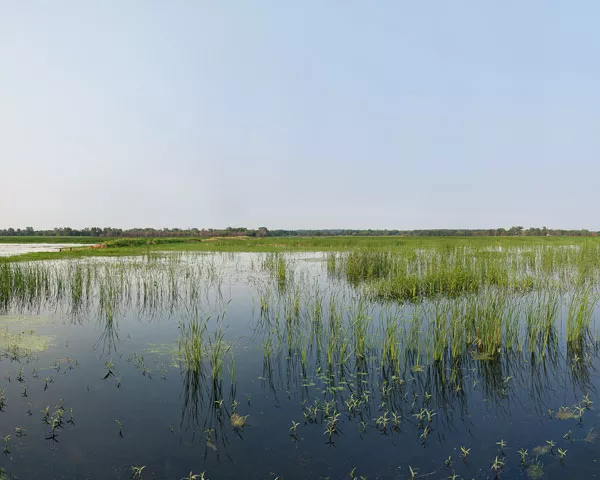 Considering its subject matter, tomorrow's talk at Point Park University, by photographer Stephen Chalmers, has an unusual genesis.
Chalmers' series Unmarked began with the butterflies of early love, the beauty of open fields freckled with flowers. Once, Chalmers took his significant other on a hiking date along a Tiger Mountain trail, near Seattle — a perfectly normal and happy memory, until a friend pointed out that that's where serial killer Ted Bundy disposed of his prey.
Struck by how this information transformed his experience of the place, the artist and photographer started visiting places where murder victims had been disposed to document the sites with pictures he titled with the victims' names. (Pictured is "Danny Joe Eberle, age 13.")
"The images in Unmarked are deliberately ambiguous, in an attempt to provide a meditative experience on the lives of the victims," he says, "and to pull away from our cultural fascination with violence and those that commit violent acts."
The project includes about 250 pictures, a dozen of which will be shown during Chalmers' Point Park lecture. All were taken along the West Coast and Washington in particular, where he was living at the time. It is also the place where some of the nation's most infamous killers come from, including Bundy and Gary Ridgway.
Chalmers, who has also worked as a medical technician, is currently a professor of photography at Youngstown State University, in Ohio. His work is included in collections including the Museum of Contemporary Photography and the Getty Research Institute. 
His talk tomorrow is part of The Speaking Light, a photography lecture series organized by Point Park's School of Communication.
The free event will be held at 6:00 p.m. Fri., March 30, on the second floor of Thayer Hall, 201 Wood St., on Point Park's campus, Downtown. Chalmers will present photography from the series and talk about how he and others located the sites he photographed with the help of Freedom of Information Act requests, police records and newspaper articles.