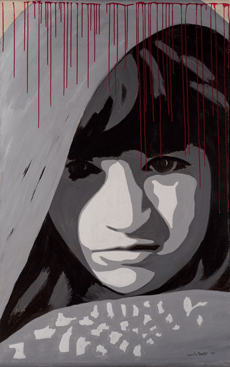 War makes it all look so simple, as if we could divide civilizations and countries into good and bad, prey and predator. But if these assumptions save us time and effort, they also make us blind. 
As part of the ongoing Windows and Mirrors exhibition, sponsored by the American Friends Service Committee, the War Dialogues Project brings together veterans and refugees from the same wars, each using storytelling to explore the complexities of the other's experience.
For two Pittsburgh residents, U.S. Iraq veteran Joyce Wagner and high school student and Iraqi refugee Mina Al Doori, opening up proved to be one of the project's greatest challenges.
"I felt much more accountable for my words," Wagner said. "At the beginning, I would feel anxious even days before we were supposed to meet. The first time, we kind of all felt the tension in the room." 
The exhibit opened Jan. 27, at Downtown's 937 Liberty gallery, and culminates this weekend. At 3 p.m. Sat., Feb. 11, The AFSC's Peter Lems discusses the impact of the troop withdrawal from Iraq. The exhibit closes on Sunday.
Despite the emotional cost of reliving her memories of the war,  Wagner felt hopeful that she and Mina were willing to meet. "What made the exchange even more successful is that there were relationships of trusts to begin with," she says. "People that we both trusted brought us together." AFSC program director Scilla Wahrhaftig had worked previously with Wagner. Marcy Luek, a friend of Mina and her family, is on the Windows and Mirrors Committee.
Wagner served as a Marine from  2002-2008, and was among of the first women Marines to serve at Camp Korean Village, in Western Iraq, in 2004. She left the military as a corporal. The board chair for Iraq Veterans Against the War lives with her son Patrick, in Stanton Heights. 
Mina, attends Pittsburgh Brashear High School and lives with her family in Crafton.
As the project progressed, the two became more comfortable, and communication much more effective. They could see more clearly the individual in each other, not just a cause or product of war. At one point Wagner remembers Mina telling her: "What we have in common is that we are both survivors."
The exhibit consists of two tall panels hinged together, covered in drawings and painted scenes of Iraq during the war. At their base are pieces of brick, lumber, Joyce's Marine Corps cover, some feathers, an Iraqi flag and, hung right over it, an oil lamp from Iraq. At night, the light flickers like flames, giving the artwork a mysterious and almost mournful feel.
Once we realize we are in this together — we all lose to the war — the healing process finally begins.
"We don't want to just talk about war and sadness," says Mina. "We want to talk about hope and whether something can happen to bring change. We want to start appreciating and enjoying each others' cultures."
Ultimately, we must identify and eliminate the barriers we have constructed between others and ourselves. Finally, Mina reminds us one of the main lessons of her own process: to always forgive, but never forget or stop trying to understand.
"I learned that many Americans actually share my same feelings about the war and so do people from other countries as well. Most of the people don't want violence, they want peace and a safe life."
Both artists plan to facilitate the same project/process for another group of veterans and refugees, in hopes of mounting  another show. Wagner is also currently working on a video exhibit for the National Veterans Art Museum, in Chicago.
937 Liberty is open today and tomorrow from 11 a.m.-6 p.m., Friday and Saturday from 11 a.m.-8 p.m., and Sunday from 11 a.m.-5 p.m.