Signs of the weather's havoc were only noticeable on coat racks at Shadow Lounge this past blizzard-y Thursday. As a visual and audio artist, Tycho — aka Scott Hansen — presented his dreamscape art project to a house packed with a bleary-eyed crowd ready to soak up his sun-drenched blanket of beats.
His music fits somewhere on the experience spectrum between lounging at the beach and gliding along ice: always peaceful but never mind numbing. As a multi-sensory artist, he's attempting to tie sight to sound, and to do so in a way that fuses the two as opposed to mapping one on the other in the sort of haphazard A/V efforts one might typically see in live electronic music. You could call it a live soundtrack to a filmic montage, but that wouldn't really be doing it justice. Excuse the hippie conceit, but his performance that night was experiential like a breath of sepia-toned psychedelia.
Brooklyn duo Thomas Mullarney and Jacob Gossett opened up with their pop-bass project, Beacon. Coming off the release of their 2011 EP "Nobody," the guys eased everyone into a brightly colored torpor kissed with downtempo beats and an almost James Blake-like tendency towards jilted romantic lyrics.
Hansen, accompanied by a live drummer and bass player, transitioned from that state of audible bliss veering away from Beacon's R&B washed vocals that center around young love and moved the whole atmosphere over to an otherworldly realm. While images of ocean waves and 60's era Bohemians moved across the screen, Hansen proceeded to lullaby the crowd with his meticulous construction of blunted beats and glistening melodies.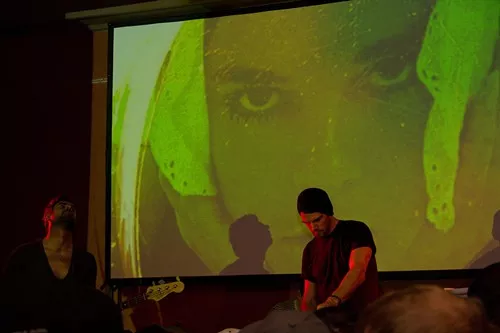 Photo courtesy of Dave McKelvey
Tycho at Shadow Lounge, January 19
Longtime fans of his music will forever find it difficult to listen without being reminded of Boards of Canada and his former allegiance to that more experimental electronic sound. Hansen's performance at Shadow seemed to smash the Tycho-legion's predisposition for comparison with several moments that begged the crowd to dance. While a glaze of experimental still exists in Hansen's newer stuff, he reminded us that the rhythm patterns of drum & bass are also an informant of his work. Between the long languid chill-on-the-beach stretches to minutes of frenetic 180 bpm cadences, Hansen never let the crowd be totally passive.
The most dance-inducing and, dare I say, rave-like moment in his set came when his drummer and bass player stepped away and he went to work improvising on his live PA set up. The music constructed for those 3 to 5 minutes could've graced the set of any dance/bass-inclined DJ and while it seemed to rock the faces on the audience members amped enough to stand right in front of the stage, the rest of the room appeared to be unsure of how to take his break-out into raveland. It was a demonstration of his range, an ode to his LTJ Bukem- and Roni Size-stained past and, really, the highlight of his set.
Electronic music's persistent push onto live stages — whether they're small galleries like Shadow or large stages at Coachella — keeps begging the question, how can we make this stuff interesting to watch? Hansen's set that night worked its way into a grander sphere of artists who take that question very seriously and it satisfied every craving for a perfect marriage between artfully produced video and intricately produced music.