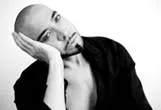 Dwight Rhoden, the famed choreographer and frequent collaborator with Pittsburgh Ballet Theatre, gives a free talk at 3 p.m. tomorrow at the Carnegie Library, in Oakland.
The talk, part of the library's People's University series, features a discussion between Rhoden and PBT artistic director Terrence Orr about the troupe's upcoming world-premiere production of Rhoden's "Uncommon."
Rhoden is a former principal dancer with the legendary Alvin Ailey American Dance Theater and a founding artistic director of Complexions Contemporary Ballet, for which he's created more than 80 ballets. His work has been featured in television productions from PBS to So You Think You Can Dance.
Rhoden's work is familiar to PBT audiences, perhaps mostly for his works set to jazz and popular music, like 2000's StrayLifeLushHorn (set to the music of Billy Strayhorn) and 2005's Simon Said (with compositions by Paul Simon). Those are two of the many works he's made for PBT as world premieres.
But like 2001's 7th Heaven, "Uncommon" is set to classical music — the former to Bach and Beethoven, the new work to Bach. What makes "Uncommon" uncommon, says PBT spokesperson Aimee Waeltz, is that it features Rhoden's contemporary-ballet movement set to those classical strains.
"Uncommon," which will feature all 28 of the company's dancers, will also anchor the first PBT production to be performed at the August Wilson Center for African American Culture. The program also includes Dennis Nahat's "Brahms Quintet" and Mark Morris's "Maelstrom." Chamber musicians will accompany each of the three works.
Also unusual for the PBT (www.pittsburghballet.org), most of whose shows run a single weekend, the forthcoming production will have nine performances over nine days, Feb. 3-12.
Rhoden's talk tomorrow — a fairly rare public appearance here, as far as I can tell — is in the Quiet Reading Room at the Oakland Carnegie (4400 Forbes Ave.).