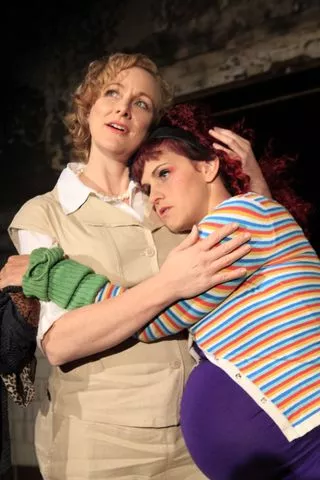 This two-actor show is an homage to and updating of Watiting for Godot — Beckett's classic recast for 21st-century women (partly because his estate allows only men to play the roles). Like Godot, it raises existential questions via a highly theatrical aesthetic: There's no attempt at realism here.
What's fresh about the show is that instead of impoverished vagrants, Sophie (played by Gab Cody, who wrote the play) and Kiki (Rita Reis, who helped write it), are the unmoored flotsam of affluent Western society. Though they inhabit a stage-bound limbo, they're well-traveled, frequent fliers and privy to an endless supply of the little cream-filled pastries known as profiteroles.
As Kiki notes at one point, "It is harder to stop eating than it is to starve."
Still, in its bones the show is old, in the sense of "classic." Its comedic touchstone is clowning, which both Cody and Reis studied at Point Park University, notably with the internationally known theatrical clowning expert Gale McNeeley.
Though it's paired in Fat Beckett with stream-of-consciousness wordplay and a dab of social commentary, this ancient form of comedy is as undisguised as Cody's padded-out posterior, or Reis' prosthetic pregnant belly.
The primacy of clowning is evident in the show starting with its prologue, which Cody delivers while Reis translates, with increasing simultaneity, in French. Their skill in getting through the bit without tripping over each other's tongues is half the humor, while the other half is how the message gets lost, or garbled, for the audience.
There's more vaudeville to come, including a physical-comedy bit lifted directly from the Marx brothers (who of course started as stage clowns themselves, and surely lifted it from someone else).
Comic formula gets to be formula because it works. Cody, Reis and director Sam Turich know their gag construction. And here those gags more often than not meld surprisingly well with the show's exploration of the human (especially the female) condition in a world that, while it might be more comfortable for many of us than the world Beckett lived in, is at least as absurd.
Quantum (www.quantumtheatre.com) is staging the show in a former school building on Hatfield Street, in Lawrenceville, near the Allegheny Cemetery.
Fat Beckett has five more performances through Sun., Dec. 18. The Wed., Dec. 14, show is a ladies-only performance with a pre-show reception.