Worried that Congress might not extend unemployment benefits set to expire at the end of the year, roughly 75 local unemployed workers, union members and Occupiers delivered petitions yesterday to the Downtown office of U.S. Sen. Bob Casey, urging the Democrat to support laid-off workers.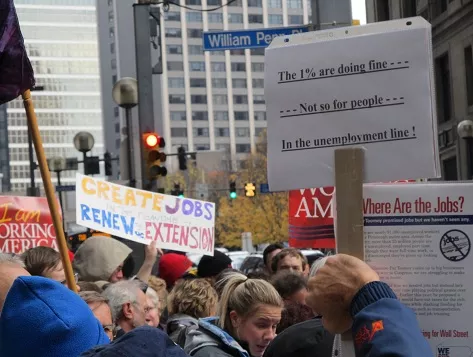 "We want jobs or we want money! This unemployment crisis is not funny!" demonstrators chanted outside the Federal Building, at the corner of Grant Street and Liberty Avenue
Lately, Republicans and Democrats in Washington have been jousting over extending the payroll tax holiday that is set to end at the end of the year. But now the debate is beginning to shift to the issue of extending unemployment benefits, which have enabled the long-term jobless to receive support for up to 99 weeks. Unless Congress acts, the benefits are set to expire on Dec. 31.
"Folks here are extremely concerned that ... extended long-term benefits will expire if Congress doesn't act," said Catherine Balsamo, member coordinator for Working America. "This is not the time to let that happen."
Today's demonstration coincided with the release of the Bureau of Labor Statistics' monthly unemployment report, which showed that the nation's jobless rate fell four-tenths of a percentage point to 8.6 percent in November, the lowest it's been in more than two years. But the rate fell partly because 315,000 unemployed workers simply gave up looking for work.
"We need jobs!" local pastor Ken Love shouted. "And if they don't give us jobs, at least give us an unemployment check!"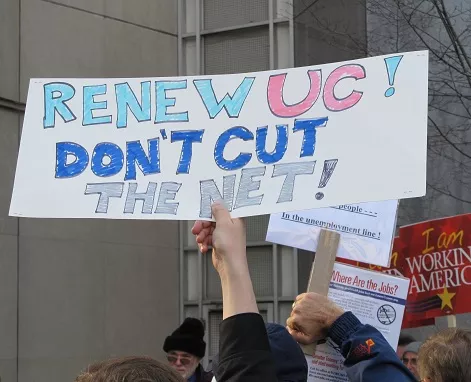 Antonio Lodico, director of the Mon Valley Unemployment Committee, told the crowd that his group helped collect 15,000 signatures urging Sen. Casey to support extending the jobless benefits. "We know that Sen. Casey supports us," he said. "But in this holiday season, we want him to be a champion" of the cause.
As Lodico spoke, a Downtown pedestrian pushed his way through demonstrators, saying, "Make way! Make way for someone who actually works and pays for you people!" Near the end of the crowd, he ran into a large union member who refused to budge. The two bumped chests before police officers came over to separate them.
After listening to a few short speeches outside the Federal Building, demonstrators marched to the Regional Enterprise Tower, where they chose a half-dozen people to deliver the petitions to Sen. Casey's office inside the building.