Jordan Miles for District Attorney?
It's unlikely to happen, but local police-accountability activists trying to drawn attention to their efforts have started a "whisper" campaign urging Allegheny County voters to write the former CAPA student's name on the Nov. 8 ballot instead of voting for current District Attorney Stephen Zappala.
"[Zappala] runs unopposed every time," says local activist Paradise Gray. "So why not run Jordan against him?
"We're committed to trying to get justice for Jordan," he adds. "This is a great way to bring more light to the case."
Since his controversial arrest and beating at the hands of three undercover city police officers last year, Miles has been the face of efforts to reform the Pittsburgh Police.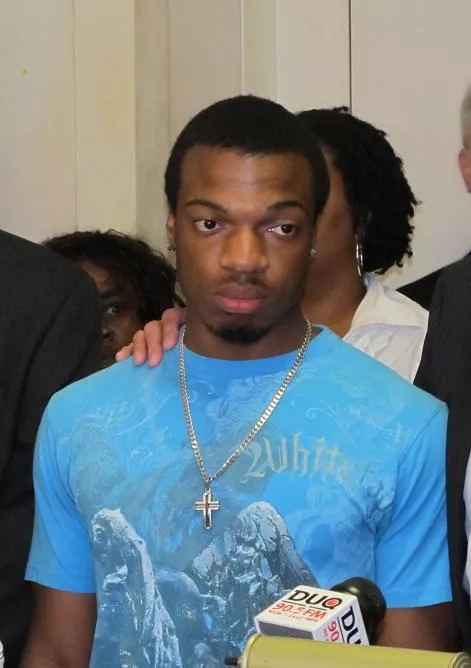 On Jan. 12, 2010, Miles was arrested by three members of an anti-gun task force, who claimed they mistook a bottled soft-drink for a gun -- no trace of either was found -- and said Miles tried to run from them and resisted arrest. But photos taken afterward of the former CAPA High School honors student, his face swollen and his scalp raw, became a flash-point of controversy across the city.
Anger over the incident increased in early May, when U.S. Attorney David Hickton announced that the officers involved in the beating -- Michael Saldutte, Richard Ewing and David Sisak -- would not face federal charges, due to a lack of evidence. Soon after, city officials announced the officers would be reinstated to the force. At rallies held soon after, protesters hoisted signs bearing Miles' beaten and bruised face, and urged Zappala to press charges against the officers.
They're still waiting.
Gray told City Paper that the idea for the write-in campaign was first discussed as far back as May, shortly before the Justice Department decision was announced. He says word began to spread once Zappala's office began investigating Miles' arrest shortly after.
It's unclear why the write-in campaign hasn't been publicized more heavily in the months since then -- especially with less than a week to go before the election. Generally speaking, the purpose of a write-in campaign is to get as many voters as possible to take part. But the effort is being billed as a "secret" ... and other than Gray, police-accountability activists who have been active in the Miles cause, including Tim Stevens and Brandi Fisher, did not return multiple phone calls for comment.
The effort does, however, have a Facebook page. So we'll have to see how far social media can help this whisper travel.