Chanting "BNY Mellon, corporate felons," roughly 100 Occupy Pittsburgh protesters picketed outside BNY Mellon late this morning. They then marched to the state attorney general's office, demanding an investigation into Mellon's handling of Pennsylvania's pension funds.
The demand was inspired by civil suits filed by the Department of Justice and the attorney general of New York, which allege that Mellon has taken advantage of pension funds, charging them unfair rates on foreign currency exchanges.
"[Mellon] took money from workers' pension funds, and we want it back!" protester Maria Somma shouted as occupiers gathered at their Mellon Green encampment -- which BNY Mellon owns -- shortly before heading to the bank's front steps. "The 99 percent is not going to take thieving anymore!"
At around 11:45 a.m., protesters marched the short distance from their encampment to the front of Mellon, where they formed a moving circle at the corner of Fifth Avenue and Grant Street -- to the apparent bewilderment of Mellon employees looking on. Many demonstrators hoisted signs: "BNY Mellon Bank of the 1%," read one. All joined in songs and chants: "Banks got bailed out, we got sold out!" Many chants specifically targeted Mellon, which one song described as "a corporate crook."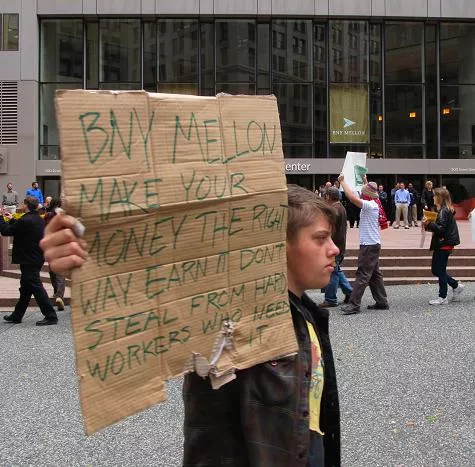 Protesters largely singled out the bank because of the pension-fund allegations, and because it acted as the custodian administrating the U.S. Treasury's highly controversial bank-bailout program. (BNY Mellon, like other major banks, itself receieved funding from the Troubled Assest Recovery Program, but returned the funding in 2009 alongside nine other large banks.) The bank's executive-compensation policies have also drawn criticism.
Mellon has denied any wrongdoing in its handling of pension funds. And in a statement handed to CP today, the bank rejected the protesters' and lawsuits' allegations:
On behalf of our nearly 7,800 employees in Pittsburgh, we recognize the right to protest and express opinions. However, the concerns regarding our foreign exchange services are misguided. The suits against us are not supported by the facts or the law. The foreign exchange market is highly competitive and we are proud of the valuable services we provide our clients. We will defend ourselves vigorously on behalf of our shareholders and employees.
As they marched, protesters handed out fliers explaining their arguments against Mellon's actions. "Workers lost money in their pension funds, and taxpayers are on the hook for BNY Mellon's actions," the flier reads. "Today we're marching to tell the bank to pay back the $2 billion!"
"My message is that our elected officials have to start opening their eyes to see what they're doing to middle-class America," Jill Fleming-Salopek, a recently furloughed school teacher, told us. "If places like BNY Mellon are skimming off the top of pension funds, it's the responsibility of our attorney general to investigate."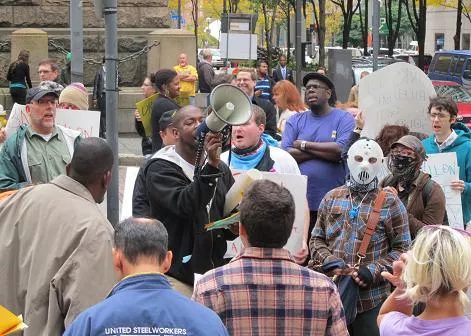 After demonstrating at Mellon for roughly half an hour, protesters marched to a satellite office of state Attorney General Linda Kelly. Outside the office, located at 564 Forbes Avenue, roughly 75 demonstrators continued to sing and chant as they walked around a small plaza in front of Sammy's Famous Corned Beef.
Shortly after they arrived, protesters asked a security guard if some of the protesters could go inside the building to speak with AG staff members. But a security guard told them that she was told not to let anyone inside.
"Apparently, the attorney general of our state has decided this is a private building and has given orders not to let four of us in," John Lacny, 33, of Overbrook, announced to the protesters.
The group then decided to bombard the office with phone calls until they agreed to meet.
"Keep calling the number!" one protester yelled.
"They put me on hold, John!" joked activist Barney Oursler.
A few minutes later, a Pittsburgh police officer informed protesters that the attorney general's office agreed to meet with one representative of the group.
"I think they're tired of putting up with us," announced Lacny, "so they're letting somebody go up."
The group decided to send Fleming-Salopek in. While waiting for her to return, they moved their demonstration from the patio in front of Sammy's to the sidewalk down below -- so as not to block foot traffic into the sandwich shop.
"We don't want to hurt their business," protester Calvin Skinner told CP.
Fleming-Salopek returned after about 10 minutes. She announced that "two very nice gentlemen" advised her to contact the office by writing letters -- news that wasn't very well received by protesters.
"I told them that we expect that they will investigate the accusations," said Fleming-Salopek, noting that she gave the officials a copy of the group's flier. "We expect [the attorney general] to be accountable and listen to us, because we're not going away."
As protesters began marching back to their camp at Mellon Green, they chanted "We will win!"