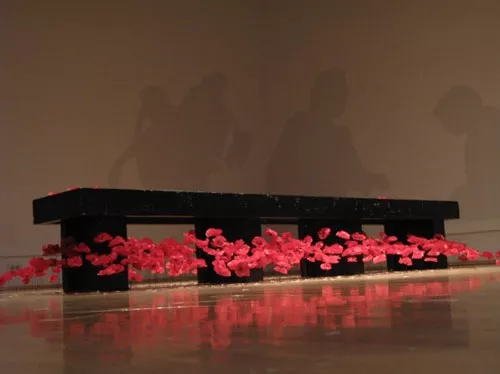 Today's the tenth anniversary of America's war in Afghanistan, and if you don't think that fact is getting enough attention, join Susanne Slavick.
The Carnegie Mellon University art professor says she listened to NPR this morning and didn't hear a word about the war that's taken an estimated 1,670 U.S. military lives and well over $1 trillion in funds, with 100,000 U.S. troops still in country.
Not to mention the lives of countless Afghans.
Slavick is a founding member of 10 Years + Counting, a nationwide initiative to support and encourage efforts to mark the war's human and material costs through art.
"10 Years + Counting is a challenge to all of us to not forget that we have been at war a decade and it's still not over," Slavick said in a statement. "It is about shunning passivity and amnesia and spurring creative expression and action to reassess what we might have done, realize what we can do now and re-envision tomorrow as a world without war."
10YAC claims more than 350 events nationwide. Slavick and associate professor of art Andrew Ellis Johnson provided the impetus behind the event at CMU.
My Heart Is In The War, which opened yesterday, includes the work of 15 students in Concept Studio I in CMU's School of Art. The exhibit's title plays on the university's motto, "My heart is in the work," words attributed to Andrew Carnegie.
The multidisciplinary group exhibit includes installations, sculpture and video.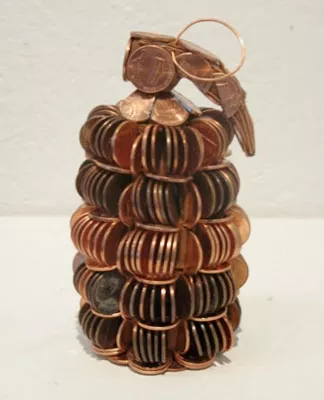 One sculpture is Mishq Laliwala's hand grenade made of pennies (pictured); another is a wind chime made of bullet casings. Another work is an audio mash-up of traditional and popular Afghan music. Melissa Bryan's installation consisting of a black bench and red paper poppies is also pictured.
In another installation, visitors can follow a trail of poppies to a machine where both printed hundred-dollar notes and donated real money may be shredded.
My Heart Is In The War runs through Sat., Oct. 8, in the Ellis Gallery on the third floor of the College of Fine Arts, on the CMU campus. Works in the foyer are on view through Tue., Oct.11.
Partners of 10 Years and Counting include CODEPINK, Iraq Veterans Against the War and Veterans for Peace.
Postscript: 10YAC has just announced the 10YAC Cultural Commons for artworks illustrating "the true cost of war and ... your vision of a peaceful world."
The contest will select "the five most creative and inspirational" submissions in music, poetry, visual art or dance to be featured in an October issue of the e-zine Alternet. The judges include Pittsburgh artist Diane Samuels.
Submissions must be made by video (via Vimeo), and the deadline is Oct. 21.
For more information, see www.10yearsandcounting.org or contact 10yacinfo@gmail.com (and put "Cultural Commons" in the subject line).