All day Saturday the 16th at First Niagara Pavilion you could see a growing swarm of people; shirtless guys and bikini-clad girls traversed the grounds of the hilly terrain, treating Identity Festival like the rave that it wanted to be. While there was no poi in sight, there were plenty of hula hoops, glow sticks, and t-shirts that read "Dub to fuckstep" and "Sex, Drugs & Dubstep," a new generation's screen-printed rock 'n' roll insouciance.
The crowd seemed to be pretty thin until the sun went down, and even into the evening when Kaskade took the main stage, the sea of people was smaller than what the headliner is most likely used to.
The musical highlight of the fest was Berlin-based techno duo Modeselektor, comprised of Sebastian Szary and Gernot Bronsert. They were slotted early, at a time in the day when only the die-hards and people who have actually heard of them were present in the amphitheater. The pit area in front of the stage was loosely filled with dancers and the guys of Modeselektor entertained them with the showmanship of rock star-cum-comedians. Standing behind a table and turning knobs didn't stifle their charisma in the slightest. They made techno music come to life by playing with urgency and whimsy and boatloads of cartoonish inflection. At one point Szary stepped out from behind the livePA setup and began lip-synching to Bjork's "Dull Flame of Desire." He passed the mic to Bronsert for Antony Hagerty's part and performed a strip tease in his half-zipped jumpsuit. Bottles were popped, the crowd was drenched in champagne and when Modeselektor's set ended, it felt all too short.
Other musical highlights came from electronic music vets Crystal Method and DJ Shadow. Both acts performed at the Rockstar/Dim Mak stage and were major draws for those attendees who were born before 1990. Crystal Method pummeled the high-energy crowd with hard hitting rock-electro, mixing their sounds of yore with recognizable samples that made for a set that bridged the age gap in their audience. DJ Shadow's set was hip hop-stained drum and bass. He played classics like "Entroducing" and moved into quilts of popular rap with Lil' Wayne samples woven into the rhythm of techstep.
In terms of musical selection, Identity did well to represent major players in dubstep, with the likes of Skrillex and Rusko; house, with Kaskade and Steve Lawler; and the seminal producers who have been around for over a decade, with Crystal Method and DJ Shadow. However, the bill lacked depth with their inability to include more of the creative unknowns like Modeselektor. We'll ignore the paltry attendance -- Pittsburgh is not considered to be a major market by Live Nation -- but if they want the interest and attendance to grow and the crowd to be the kind of people who come back for more, they'll have to include more boundary-pushing musicians.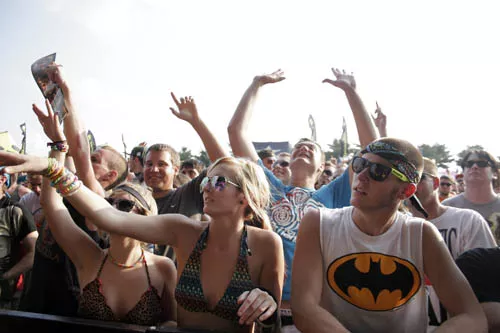 The festival itself was fun, there's no denying that, but for a festival to keeping on going year after year, it needs to offer attendees something new. Festivals are not simply for dramatically staged, watered-down club music; they should be spaces for musical discovery, and Identity mostly just offered more of the same.