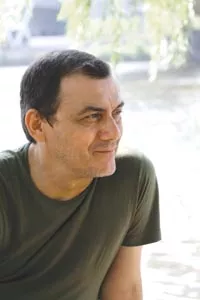 The acclaimed Salvadoran novelist who came to Pittsburgh in 2006 under the auspices of City of Asylum/Pittsburgh was scheduled to leave town today for greener (or at least flatter) pastures. Quite literally, in fact -- he's off to a teaching post at the University of Iowa.
Moya gave a final reading last week, appropriately enough sponsored by City of Asylum. On July 27, about 150 people sat under a tent on Sampsonia Way to hear him read from his latest novel, Tyrant Memory (New Directions Books).
Tyrant Memory is the third of his 10 novels to be published during his five years in Pittsburgh, and the latest in English.
While he speaks fluent English, Moya writes in Spanish. New Directions' publication of Senselessness, his first novel translated into English, was the occasion of my 2008 feature story about him: www.pittsburghcitypaper.ws/gyrobase/Content?oid=oid%3A50720. That book brought Moya, who turns 54 this year, his first widespread acclaim in North America, with strong reviews in outlets including The Village Voice, The Nation and Slate. (Moya's other admirers have included the late Roberto Bolaño.)
Tyrant, Memory, meanwhile, was the novel Moya was working on when he first came to Pittsburgh, from Frankfort, Germany. He says he wrote at least 70 percent of it here: "I could write this novel because I had a chance of getting distance from my country."
Moya originally fled El Salvador in after receiving death threats following the publication, in 1997, of his satiric novel El Asco, which took his country to task for … most everything.
Tyrant Memory is Moya's first historical novel. Most of it takes place in 1944 in El Salvador, a year of political upheaval that saw an attempted coup against the country's pro-Nazi dictator.
The book is structured chiefly as a series of diary entries. One set is by a 43-year-old mother whose husband is a poltical prisoner. Another series follows a pair of political fugitives; Moya read a section with the two holed up in a church attic.
His reading and brief talk suggested that the book was full of Moya's trademark dark humor and narrative and thematic complications. The political prisoner, for instance, is a former secretary to the dictator who left the country, returned as a Communist secret agent, and married a rich woman, herself a conservative Catholic.
At the reading, Moya thanked City of Asylum/Pittsburgh, whose establishment was spearheaded by local entrepreneur Henry Reese to give sanctuary to writers persecuted in their home countries. The group provided Moya with housing, a small living stipend and other benefits until he got on his feet. Moya also thanked University of Pittsburgh writing professor Chuck Kinder (who was in attendance) for help getting him teaching work at Pitt.
And, characteristically, Moya made a wry joke about his life in self-imposed exhile and his seemingly abrupt departure from Pittsburgh: "The last 20 years of my life I've lived in like six cities, and I just escape."