Activists want voters to decide how to fund the Carnegie Library system, and it looks like this November, city residents will get a say on whether to support the libraries or not.
Library activist group Our Library, Our Future yesterday presented nearly 11,000 petition signatures to City Council, asking for a ballot question in November. The requested referendum would ask for a 0.25 mil special tax on taxable real estate, and the funds generated would be earmarked only for the operation and maintenance of the Carnegie Library system. Under the state law that allows municipalities to levy library taxes, only 2,769 signatures were needed for a petition.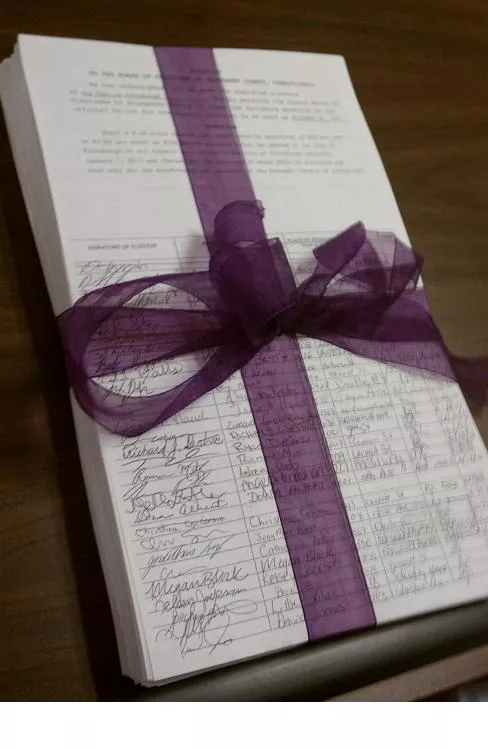 "It's clear city voters want to have a say in the future of their libraries," said David Malehorn, a volunteer with Our Library, Our Future, at a press conference Tuesday morning outside City Council Chambers. "We need to step up and shoulder responsibility for funding for our libraries."
The proposed tax would generate $3.25 million a year, according to city councilor Patrick Dowd. It would cost an additional $25 a year for taxpayers on properties with an assessed value of $100,000. By law, the tax proceeds must be used to support ongoing library operations, rather than capital expenses like new facilities.
"It's not just an asset. It's a critical part of our infrastructure," Dowd, a library board member, told City Paper. "We have to have it. We need the neighborhood resources it provides. It is a necessity."
City Council will act as a pass-through for the petitions, which are being forwarded to the mayor's office for approval. They will then be forwarded to the Allegheny County Board of Elections, which will certify them before placing them on the November ballot.
"This is democracy in action. It's up to the people now," said council president Darlene Harris.
Dozens of library supporters came out to the press conference by the Our Library, Our Future -- an initiative launched in June born out of the recommendations of Public-Private Task Force on Sustainable Library Funding. The library's board approved the funding strategy in January.
It's all been part of an effort to solve the public library's long-standing financial woes.
A recently approved budget by the state government keeps funding roughly on par with last year's allotment for libraries statewide, which, while the Pennsylvania Library Association has noted is better than being anticipated cuts, it still is problematic for cash-strapped systems.
The Carnegie Library, for example, has lost about $2 million in state funding over the past few years. But it's not just state allocations to blame; other funding streams haven't increased. "Our funding has remained level," says library spokeswoman Suzanne Thinnes. "It's not keeping up with expenditures."
City council approved a total of $1.2 million stop-gap funding for the library last year to be disbursed over two years. Thinnes said the library has received about half of that amount and "we haven't heard" anything about the release of the remaining funds.
The library has gotten a little help from the mayor's office on the tax initiative, at least. Ravenstahl is one of the 10,000 city residents to sign the petitions. But city spokeswoman Joanna Doven said he did so only to support "the public's right to vote on the issue. He will be voting 'no' because he believes the people of Pittsburgh already pay too much in property tax."