The wheels are in motion.
Conversations about bringing a bike-sharing system to Pittsburgh officially began today, and a presentation by a Wisconsin-based company operating bike shares earned support from local officials. But it's still uncertain when, or if, Pittsburghers will take part in the increasingly popular transportation program.
Representatives of B-cycle, which conducted a bike-sharing demonstration in Market Square yesterday, met this afternoon with more than two-dozen biking advocates, city planners and local foundations at the Pittsburgh Downtown Partnership to discuss how the short-term bike-rental system works ... and how it could help the city.
"This bike system will make your city more vibrant than an extra bus," said Jason McDowell, B-cycle's project and logistics manager. "It's easily accessible and really quick."
Popularized in Europe, bike sharing is touted as a way to ease traffic problems, cut pollution and improve health. The concept is straightforward: Bike-docking stations, stocked with roughly a half-dozen or more bikes, are located throughout part of a city -- say Downtown's Golden Triangle. To check out a bike, riders, who typically buy memberships (about $60 per year), swipe their credit card to check out a bike at one of the unattended dock stations.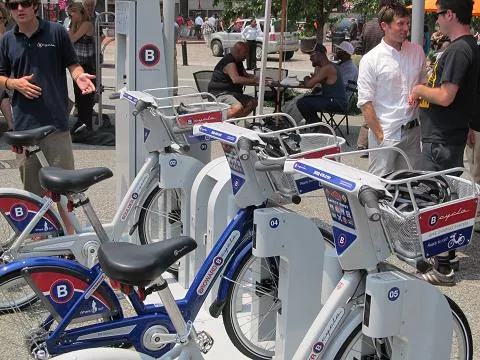 The first half-hour of riding is free, but additional charges kick in if riders use the bike past the 30-minute mark. When riders are finished with the bike, they simply check it into any nearby docking station.
Currently, bike sharing is available in more than 200 cities worldwide, including Boston, New York and Chicago in the U.S. B-cycle, one of a number of companies running systems nationwide, operates programs in Denver, Colo., (it's first, now one-year old), San Francisco, Calif., and San Antonio, Tx., among others.
During today's presentation, McDowell explained that bike sharing is most effective when docking stations are concentrated in a smaller area, rather than spread out. For example, Pittsburgh would be best served starting a network in the Downtown triangle. "You want a fairly dense network," said McDowell, noting that a radius anywhere from a half-mile to a mile-and-a-half works best.
Asked how many docking stations the Downtown area would need, McDowell estimated 15-20 stations, holding 100-150 bikes, would probably do the job.
Attendees also asked what would happen if a rider looking to check out a bike came to an empty station, as well as what would happen if someone trying to check a bike in approached a full station.
"It's gonna happen," McDowell admitted. However, he said, B-cycle employs a few maintenance workers in each city; part of their job is to "rebalance" the docking stations. "But lot of times, the system fixes itself," he added. "The frequency with which it replenishes itself is pretty incredible."
Part of today's discussion centered on the additional charges incurred for renting a bike past the half-hour mark. To the satisfaction of meeting attendees, McDowell noted that "There is nothing preventing you from riding 29 minutes, checking in and then checking out another bike" for another 30 minutes without incurring any extra fees. "We don't really care."
The main goal of the fees, he added, is simply "to keep people from taking a bike and locking it up at their work all day. You want those bikes to circulate."
The cost of renting a bike is one thing, but the cost of starting a bike-sharing program is another. According to McDowell, capital investment costs for bike-sharing programs usually equal about $3,500-4,500 per bike. "Funding is a huge hurdle," he told City Paper after the meeting.
Many cities, including Denver and Minneapolis, create nonprofits that use grant money to develop bike-sharing systems. As CP reported in January, Nice Ride Minnesota is a Minneapolis nonprofit that bought its 700 bikes and 100 stations with a $1.75 million federal grant and $1 million from corporate partner Blue Cross/Blue Shield (whose ads adorn the distinctive neon-green bikes).
Given the current economic climate, attendees said they're unsure whether bike-sharing will become a reality in Pittsburgh anytime soon. But they added they'd certainly embrace the program if a company like B-cycle rolled into town.
"It seems pretty cool," said Will Bernstein, a policy analyst for the Allegheny Conference, who attended yesterday's demonstration and gave one of the bikes a test run. "It's very easy to use."
"I think it's a really good idea," added Lucinda Beattie, vice president of transportation for the Pittsburgh Downtown Partnership. "It's a good complement to other forms of transit, and it represents another choice for people that is affordable and environmentally friendly."
Beattie is unsure how a bike-sharing system could be financed here in Pittsburgh. But she says B-cycle's presentation "will spark a lot of conversation" between government and foundation officials.
"I don't really see how it couldn't work" in Pittsburgh, said Erok Boerer, of the bike-advocacy organization Bike Pittsburgh. "It's a pretty sexy thing."