It looks like East Liberty's pop-up bookstore will complete its month-long run as a cultural success but a financial disappointment.
Jodi Morrison, the project's founder and financial backer, told CP today that she'll probably lose about $13,000 on the venture, which temporarily revived the former Borders Eastside as a hub for independent writers, presses and bookstores. Morrison says she had gone in prepared to lose money, but hoped it would be less than $10,000.
As Dana Sklack first reported in late April, Fleeting Pages opened May 7. And when we checked in a week later, the store was generating good foot traffic, and even decent sales of independently published books and zines -- all in a store Borders had vacated a month earlier. Fleeting Pages even boosted community involvement with a couple dozen grassroots-organized events, ranging from literary readings and workshops to movie screenings.
Groups organizing events included locally based, nationally distributed journal Creative Nonfiction and such fixtures of the Pittsburgh scene as The New Yinzer, Cyberpunk Apocalypse and Six Gallery Press. On May 31, there was a poetry slam.
But Morrison says sales tapered off. And most of the publications were too low-cost to offset the rent, utilities insurance and other expenses to operate the two-story, 24,000-square-foot former Borders.
Morrison, who lives in Braddock and trades stocks for a living, loves books, but she's also interested in new approaches to both culture and commerce. One of her experiments at Fleeting Pages likely cost her some revenue: She says she let presses and writers determine their own commissions -- how much of a cut of the sales price they'd keep. While some participants actually gave her books, others offered the store less than 10 percent.
Morrison estimates she wound up keeping about 27 percent of the sales revenue, compared to about 40 percent for a typical indie bookstore. Given that she paid out $17,000 to $20,000 in commissions, the standard rate might well have kept her losses under $10,000.
Morrison led an all-volunteer staff, personally working 14- to 18-hour days seven days a week. Sometimes she slept overnight in the store (on occasion because she'd missed the last bus home). "I'm exhausted," she said on the third-to-last day of business.
Still, she's pleased with the response Fleeting Pages earned. "For me it was a success," sys Morrison, 33. "It was a [financial] risk I was willing to take because [the project] has greater meaning for me."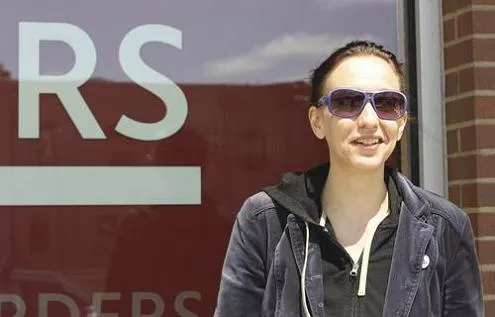 "We definitely reached goals of getting people talking about things," she adds. She means not only discussions about indie presses and vacant big boxes, but also writers and publishers meeting other writers and publishers, and the general public meeting indie books, zines and comics -- some for the first time.
"Everyone comes in, and they're very upset that we're closing," she says -- even though her plan all along had been a-month-and-out. (She had maintained the option of staying open an extra two weeks if the store had managed to break even).
Some people, in fact, wandered into Fleeting Pages thinking that Borders was still in business -- only to find a fraction of the chain's usual array of shelves, and those shelves lined with works by little-known poets, novelists and essayists. "They wanted me to tell them where to find a real bookstore," Morrison says.
Conversely, some patrons visited three or four times a week. Some even brought her food.
I asked Morrison if she thought a permanent indie bookstore might succeed in Pittsburgh, providing it had less overhead expense than Fleeting Pages. "It could work possibly, with more planning time and a small space," she says.
If there were such a store, someone else would have to run it: Morrison is burned out for now on selling books, and looking forward to just having time to read them again. But she says a similar, if smaller-scaled, venture is now easier to imagine because of Fleeting Pages' experience.
She notes, however, that if people value community-oriented, bricks-and-mortar outlets for books, they need to support them. Even long-time bookstores and comic shops are vulnerable. "If people don't buy books, [the stores] could go away."
There's still time to visit Fleeting Pages (5986 Penn Circle South, East Liberty). The store is open tonight until 9 p.m., and from 10 a.m.-9 p.m. tomorrow and Saturday.
At 3 p.m. Saturday., Morrison will host an "idea-generation" session titled "What's your Fleeting Pages?" to help people brainstorm similar projects (not necessarily book-related).
Saturday is the store's final night, but don't expect a party, Morrison says. "I decided I would end it the way it opened: just simply and quietly."