Stephen Glassman, the longtime head of the state's Human Relations Commission, is coming to Pittsburgh. And as he heads out the door, his old foes at the American Family Association of Pennsylvania have a final kick in the ass for him.
The AFA is one of those "family values" conservative groups. You know the kind: When some legislator in Oklahoma denounces Pittsburgh as a veritable Sodom-on-the-Mon, the AFA is the first to agree. You might think they'd be ecstatic over the news that Glassman will be heading up the Community Design Center of Pittsburgh, where he'll take over from the departing Ann-Marie Lubenau.
But the AFA is taking this one last chance to urge Corbett to fire him.
Glassman is gay -- and in fact proudly claims to be Pennsylvania's first openly gay state official. The AFA contends that he has been "using the force of law to demand that all Pennsylvanians celebrate the homosexual lifestyle." That no doubt explains why it's now mandatory for Pennsylvanians to attend at least one Liza Minelli concert a year.
In any case, the AFA worries that the announcement of Glassman's new post "offered no indication that he was leaving his position as Chairman of the PHRC." So they decided to force the issue:
Ever since Governor Rendell 'promoted' Glassman from commissioner to the chairman of the Commission he has used that position to push his agenda -- but what do you expect when you appoint a homosexual activist? We are asking Governor Corbett to do the right thing for Pennsylvania and choose a Chairman that better reflects the majority of Pennsylvanians."
I'm not sure why the AFA felt obliged to put "promoted" in quotes ... does it not count as a real promotion when gay people are involved or something? But this is one time where the AFA may actually be happy with something reported in City Paper: Glassman is, in fact, leaving his state post.
"What's so humorous about [the AFA statement] is I've already resigned," Glassman said when I reached him by phone. "I guess they haven't spotted it. But I've submitted my resignation, only because I've accepted this very exciting position in Pittsburgh. And in order to take it, I can't do the job of being chair of the commission."
Glassman's resignation is effective June 30, he says -- a date he chose to give Corbett time to settle on a replacement.
Glassman looks back with pride on the eight years he spent at the head of the commission. In that time, he says, municipalities all across the state have created their own human-rights ordinances, and empanelled commissions to help enforce those rules. Among other accomplishments, the state commission also helped shepherd through an anti-bullying policy in Philadelphia schools, and played a significant role in the notorious Valley Swim Club case, in which black children were ousted from a private swimming club in suburban Philadelphia.
Rendell, says Glassman, "was so supportive of every initiative I wanted to do -- and I did a lot of out-of-the-box things." And he admits that the move to Pittsburgh was prompted in part by Corbett's victory in last year's election. "The change of administration had a great deal to do with my [departure]. I don't feel I'm going to be supported in the work I was doing there. So maybe it's time for somebody else to take the reins who is in the same party."
Glassman says it's too early to lay out a vision for what he hopes to accomplish at the Design Center, which advocates for and assists good design throughout the built environment. But he's clearly a big-picture guy.
Glassman is moving into a new loft in East Liberty's Penn Circle area -- "East Liberty is an exciting place to be -- I come from not only an architectural background, but also the civil-rights movement. And I didn't want to be somewhere that was isolated from minority populations."
I noted that East Liberty's redevelopment had already raised inevitable concerns about gentrification, and asked whether such issues could be addressed in his new position.
"Just before you called," he said, "I was on the phone with a city official talking about legislation that would help protect local residents from being priced out of the market." Such a proposal would work by keeping property taxes stable while a resident remained in the home -- and when the property was sold, a portion of the proceeds would revert back to the city, with interest.
"That way, the city isn't out any money from lost revenue," Glassman says. "I think there are all kinds of public-policy things you can do to address these problems."
And who knows? Since he's techincally retaining his HRC chairmanship for another few weeks, maybe Glassman could make a phone call to another city official, Rev. Ricky Burgess. Who, once again, is a no-show in the official PrideFest magazine. If you take a look on page 7 of the guide to this summer's gay-pride activities, you'll see that Pittsburgh City Council members are welcoming the LGBT festivities. With one notable exception.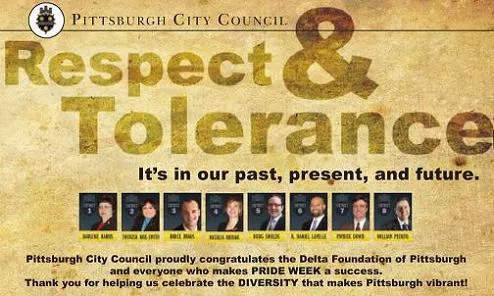 Yes, Burgess, the city's District 9 councilor, is missing from the roll call of councilors listed on the ad.
No surprise here: Blogger Sue Kerr pointed out Burgess' disappearance from the same ad last year, and more recently she's noted his somewhat equivocal position on a resolution to urge state officials to ban discrimination against LGBT Pennsylvanians. And back in 2008, not only was Burgess the lone opponent of a domestic-partner registry, but he tried to conceal himself in a photo taken of council members with officers from the Delta Foundation, which organizes PrideFest.
I'd take Burgess over the folks at the American Family Association, of course. But even so, looks like Glassman may find one or two familiar things in his new surroundings.