Parking in Pittsburgh has always been a problem. The Mon Wharf floods as often as the Ganges. Downtown garages fill up by 8 a.m. And then there are the tickets, and the dreaded "boot."
But the parking industry has a fun side, too -- and it was on display this week at the International Parking Institute's Conference and Expo, held at the David L. Lawrence Convention Center.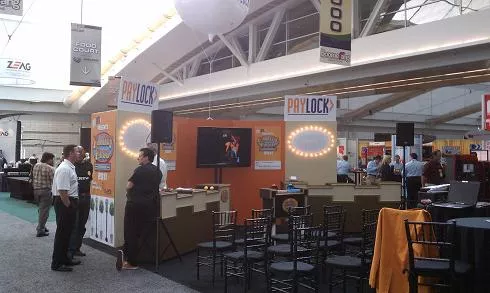 "People can think the parking industry is pretty boring," says Cindy Campbell, chairwoman of the IPI. "I've never met so many good, decent people. The parking industry is a people industry and you may not see that, but it's the way it should be. We're not just heartless, terrible people giving citations."
How does parking industry cut loose?
Game shows: The enforcement company PayLock sponsored its own version of Family Feud, which had music, blinking lights and lots of clapping from attendees. Convention insiders said the company is known for its showmanship, and last year used a coffin and pall bearers as props.
Free swag: If you didn't think the parking industry didn't have a sense of humor, you'd be surprised. Among the free t-shirts spotted at the convention included "I LOVE PARKING TICKETS," a play on the famous Hooters restaurant t-shirt but featuring a parking boot, and one that read "Scofflaw."
Lots of new tech: Think Robotic parking systems, where you drive your car into a garage, punch in your money and the car is parked for you ... by a robot. Not the kind from The Jetsons. More of a robotic grid -- cars go on blocks that are moved around, kind of like a big Tetris grid. The technology can go into existing or new garages. "You can fit in the same space twice as many vehicles," says Rod Kirby of Boomerang Systems, who had a robotic parking display.
Going Green: The industry has geared itself toward lowering its carbon footprint, says Campbell, and much of that was on display from mobile parking apps that allow you to reserve spots online, from your smartphone or over the phone, to parking guidance systems, which inform drivers what lots have spaces open, and even show you where they are in garages and lots. "It really lowers emissions by avoiding people driving around in circles and circles looking for a spot."
But what of the notorious "boot," the metal clamp that anyone with five or more outstanding parking tickets in the city of Pittsburgh fears?
Plenty of "enforcement companies" were on hand to show off their take on the product, and the guys at Rhino Vehicle Immobilizer were kind enough to show us how the damn thing works. Suffice it to say you really DON'T want to drive your car withone of these on; the device clamps onto your brakepads.
We also talked with Chris Williamson, vice president of manufacturing at Miti Manufacturing, who makes the Rhino.
CP: You guys are kind of the villains of parking for people who have outstanding tickets.
CW: The boot is much cheaper then being towed. No one likes boots, but in the long run it's cheaper.
CP: So these don't damage vehicles?
CW: Most clamp right on the back and use a key. There's another model that wraps around your tires and can hurt it. Some cities don't care, though.
CP: Can people take off the boots on their own?
CW: It's made of steel. And it's all about time. If you take the time, but think about it: In five, 10, 15 minutes, someone's going to come by, you know? But if someone hooked up a chain to [a boot] from another car and drove off, would it work? Yeah. But that takes time.
CP: Who primarily uses your boot?
CW: Municipalities and universities, but for two different reasons. Municipalities want the revenue. Universities are more about compliance. Kids park where they don't want them to so at the beginning of the semesters you'll see a flood of boots so it sends a message.