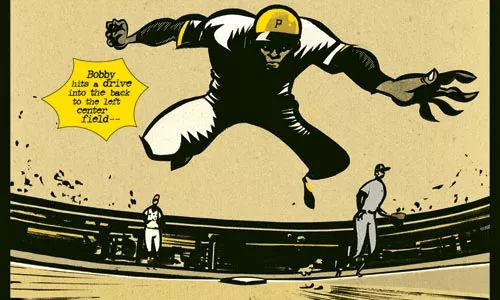 Wilfred Santiago, the author and artist behind a terrific new graphic novel about Roberto Clemente, visits Phantom of the Attic Comics, in Oakland, tomorrow.
Here's the interview writer David Davis did with Santiago for CP back in April: www.pittsburghcitypaper.ws/gyrobase/Content?oid=oid%3A93344.
Santiago's 21 tells the baseball hero's life story, and not just his exploits with the Pirates and his humanitarian work. It also spends a good deal of time with young Roberto in Puerto Rico, partly to show what drove this proud athlete and partly to explore things like the Puerto Rican independence movement.
Santiago, you see, grew up in the very town where Clemente was born (though he was just 3 when Clemente died, in 1972).
For as ambitious as it is literarily, 21 might be even more engrossing visually. Santiago's playful stylizations powerfully render everything from the exploitation of Puerto Rico's cane fields to Clemente's own wildly kinetic prowess at the plate, on the basepaths and patrolling right at Forbes Field and Three Rivers Stadium. Its evocation of Pittsburgh during Clemente's early days here -- from the mid-1950s through the 1960 World Series -- are especially good.
Santiago, who's now based in Chicago, will sign copies of 21 from 1-4 p.m at Phantom of the Attic, 411 S. Craig St., Oakland. The store's phone number is 412-621-1210.