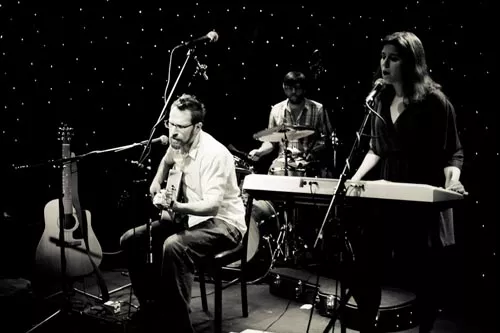 Hey there!
Sorry I've been missing for a while; next week's issue is SUMMER GUIDE! and that means I've been busy writing a huge lists of all the concerts ever, and reading other huge lists, or other summer goings-ons. But here I am, to write about a show I attended last Friday at Club Café.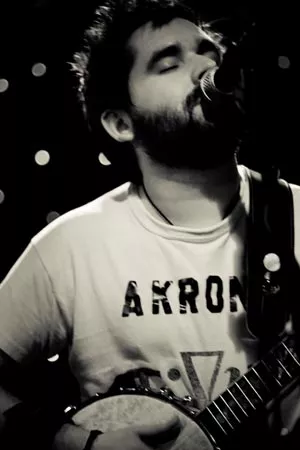 The event was Arlo Aldo – a somewhat-recent local – playing with Big Snow Big Thaw, whom I've blogged about, and given extraneous commas, before. It was the late show (10:30 sharp), and it was on the South Side, and I live on the East End, and *weep* I had to cross a bridge and *whine* I had to find parking on the South Side and it was Friday night and I was tired. But I made it happen, as did my photog buddy Brian Taylor (on Twitter @brianmtaylor).
Arlo Aldo is the project of David Manchester and friends; Manchester and his wife moved from Baltimore to the 'Burgh a little less than two years ago. (David, who has also lived in Portland, has high praise for our city – or was he just buttering me up? Who's to say, really? I'll accept compliments for Pittsburgh regardless.)
Manchester also performs with Kadman, but Arlo Aldo is his newer project – his guitar and vocals backed up by keys and drums. It was tough to really concentrate on the music at this show, to be honest: This is where I note that the crowd, while enthusiastic and not problematic, was rather talk-y, and Club Cafe is a small room – there was a constant buzz in the room.
That having been said, Arlo Aldo's tunes were mellow and easy, quietly personal but not boring. The band's dynamic was relaxed but not inattentive. The tunes were clean and nice, and I found that – on a Friday night, when I started the evening tired and dogged and rather annoyed about being a music critic – I was having an OK time.
The crowd noise didn't go down all that much for the headliner, Big Snow Big Thaw. But what was satisfying on this particular night was that both bands were operating fine in spite of it. Sometime in the middle of Big Snow Big Thaw's rollicking good-time bluegrass (not kitschy, not self-conscious), I realized that this show was just ... fun.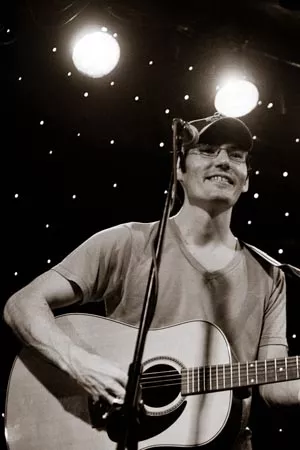 Here we were in a small-ish room, some of us standing, some of us sitting, some of us taking pictures, some of us stomp-clapping in an abysmal fashion, but we were all having fun. Not overthinking it, but not settling for second-rate tunes either.
On a level, it calls to mind questions about what I want from music, what we want from music, what I want from live music as opposed to recorded music. Not to say that I don't want to jam recorded music by these two bands; I do. But neither is, and maybe neither ever will be, my daily commute music, my car-ride music.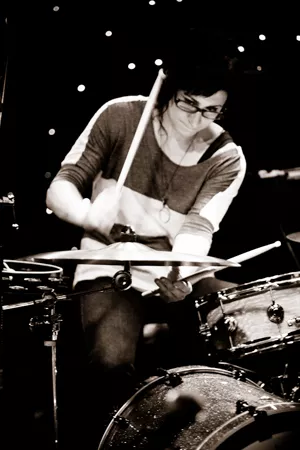 Friday night, though, they were all I wanted: an excuse to come out, to see friends, to hear pleasant songs, to see folks having a good time playing music and other folks having a good time listening. Perhaps I was contrasting it with the chip I observed on Mike Ness's shoulder Wednesday at Stage AE; perhaps I've grown (given the nature of my work) to think of music as too often disposable, and too much about establishing oneself on the vanguard as a consumer. But Friday night I had a positive musical experience that had nothing to do with all that, and Arlo Aldo and Big Snow Big Thaw are to credit.