This weekend's Round Corner Cantina Patio Opening Fiesta had Lawrenceville bumpin' for an all-day/all-weekend party that offered more than the standard Cantina fare of Tecate and quality tacos. Beginning at noon and rolling until 10pm, the patio was alive with a diverse crowd of partygoers soaking in the cumbia tinged beats from the guys of ZZK Records.
Edgar Um started off the day with a marathon DJ set featuring a blend of jazz soul, afro-funk, and old-school cumbia displaying his impressive range as he had just come off opening a techno/house party the night before.
As the sun began to set, the crowd swelled to a comfortably packed patio and ZZK's El-G took the decks rocking out a more frenetic cumbia style that borrowed a lot from hip-hop, melding traditional South American music with distinctly urban flavors. The musical mix was sexy with Latin flair; elements of Andean Folklorico and electro reggeaton layered organic percussion with electro dance beats. Along with the fiesta electro fusion came brightly colored visuals displayed on a screen mounted at the opposite end of the patio facing the building, celestial images morphed into colorful blocks and zigzags that looked like a Keith Haring take on Aztec artwork. Following El-G was Chancha Via Curcuito, who began his set on the patio and finished up inside on Cantina's pint-sized dance floor.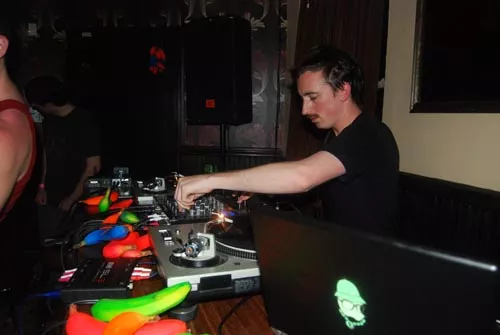 The neighborhood noise restrictions that disallow music out on the patio past 10 pm became an obvious frustration by the time the headliner went on. Some of the crowd came in for Chancha Via and hung around for the start of Sammy Bananas' changed-up nu-disco set, but attempting to move a party from a spacious outdoor patio on a fair-weathered spring evening inside to a postage stamp-sized dance floor was not well received by the fiesta-goers. The music did not fail to deliver, but in the end it was space restrictions and denial of the outdoors that led to a sparsely populated dance floor.
Sunday, the rain prevented a return of Saturday's large, diverse crowd but the music was still stellar and still dance inducing. The lineup featured local DJs Kelly, J Malls, Selecta and residents Lauren G and Nikkels with special guest Paluka, and the headliner on the day was DJ Sabo, who kept the party going with a funky mix of Latin House, afrobeat and reggae.
Hopefully the weather will hold out next Sunday for the Cantina's Mas y Mas Brunch, which will feature Red Bull Music Academy alum Runway (DFA/Brooklyn). The duo of classically trained musicians will be laying down some psychedelic disco house to go along with that hangover-reducing bloody maria and chorizo steak taco. $5 for access to the patio, music starts at 2pm and goes until 8pm.