The CMU Activities Board certainly wrangled in a doozy of a lineup for Easter Sunday. While most people might've been working on Grandma's Easter dinner, a slew of bass aficionados and sonic revelers met up at Rangos Ballroom for Philly-based dubstep producer/DJ Starkey and LA-based beatmaking wunderkind Nosaj Thing.
Starkey's eclectic dubstep set highlighted his far-reaching composition skills as it moved from crunked-out bass, to epic string saturated samples, and back into a headbanging tapestry of wonky basslines and trippy female vocals. At times his sound was all old-school South London with mega-dark instrumental dubs -- could've come straight out of London's FWD. Then he would drop some trip-hop track into the layers of two-step garage and crooked bass and the room filled with a sound that edged into post-dubstep, still grimey as ever but tottering on the edge of genre lines.
If you know where to look, there's no shortage of anti-pop bass music in the current dubstep climate, one producer after another reinventing the wheel and spinning off of a maturing generation of ravers. Starkey's version of bass-y electro wasn't the most mold-shattering but it definitely had a street attitude like no other.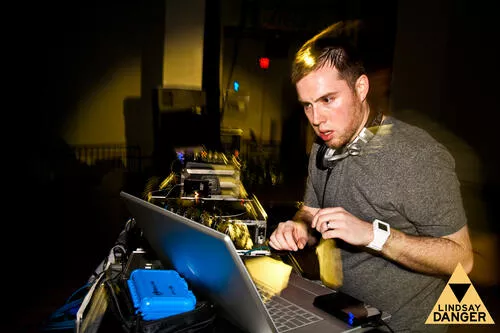 Like Starkey, Nosaj Thing is heavily influenced by hip-hop and trip-hop, but the artists' sounds and attitudes couldn't have been more different. Nosaj Thing's set was rich with washes of blunted beats and delayed reverb that vacillated with dexterity between smooth and languid lagging to drum-and-bass quickness and back again.
The most impressive thing about Nosaj Thing's set was the way that he used his celestial beat-making skills to move the mood and movement of the collective crowd so quickly and so smoothly; he only let us sit in a groove for a few seconds before he seamlessly took us to some other sonic realm. He worked some of the gems off of his expertly produced first album, Drift, into the set; I picked out tracks like "Fog," "Caves," and "Us," and with the way that he blended the tracks and beats like an impressionist, there were most likely pieces of others. We also got to hear some of his most aurally addicting remixes: Radiohead's "Reckoner," Portishead's "Wandering Star," and The XX's "Islands." Nosaj Thing proved he is some sort of beat making, remixing chemist. The elements are all static but he can just mix up explosive potions with them.